General
Money
Entry Requirements
Health & safety
Weather
Embassies
Etiquette
Public Holidays
Attractions
Map
---
Introduction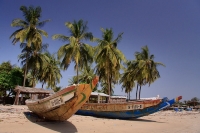 Boats on the beach, Senegal ©Angel Hernansaez
Located on the northwestern bulge of Africa, at the continent's most westerly point, the small Republic of Senegal sits on the Atlantic Ocean between Guinea-Bissau and Mauritania, with another country, Gambia, almost entirely enclosed within it.
The sun shines almost all year round on hundreds of miles of beautiful beaches, estuaries, mangrove swamps, savannah and a semi-desert in the north. The Casamance region, a strip of land stretching from east to west across the country below The Gambia, boasts some of the best beaches in West Africa, and is one of the most touristic parts of Senegal. Here tourists experience a vision of tropical splendour with lush forests, coconut palm groves, brilliant flame trees and bougainvillea, as well as warm waters brushing the endless stretches of sandy beaches. Hotels bordering the beaches make coastal Casamance a holiday paradise for visitors.
The modern capital city of Dakar, situated on the tip of the Cap Vert peninsula, is a vibrant hive of local and international activity. Here businessmen rub shoulders with tourists, but visitors will also find traditionally dressed Senegalese amid the confusion of gleaming hotels, cafes, colourful open-air markets and the medina (old quarter). Just two miles (3km) offshore lies Gorée, an island that was the most important slave depot in West Africa between the 16th and 19th centuries.
Not only does Senegal offer seaside resorts, a fascinating history, and a modern business infrastructure, but there are also national parks rich in flora and fauna, excellent scuba-diving and fishing opportunities, a diversity of cultures and customs, and a warm welcome by its people who adhere to the traditional values of respect for others, good manners and hospitality.
Communications
The international dialling code for Senegal is +221. The outgoing code is 00 followed by the relevant country code (e.g. 0027 for South Africa). No city/area codes are required. Senegal's telephone system is one of the most developed in Africa, and there are numerous telephone centres for making both local and international calls. Mobile phone operators provide GSM 900 cell phone coverage. Cybercafes offer Internet connections in the main cities.
Emergencies
17 (Police); 15 (Ambulance); 18 (Fire)
Languages Spoken
The official language is French, but there are six other national languages spoken, including Wolof, which is the most widely used, as well as numerous other dialects.
Duty Free
Travellers to Senegal over 18 years do not have to pay duty on 200 cigarettes or 50 cigars or 250g tobacco or tobacco products; perfume for personal use; gifts to the value of CFA 5,000. The import of spirits is not duty-free, but travellers are able to import one bottle of wine.
Electricity
Electrical current is 220 volts, 50Hz. Round two-pin attachment plugs are in use.
Climate Info
The weather is generally hot and humid all year. There are two seasons: the rainy season from June to October and the dry season between November and May. Humidity is highest during the rainy season and sea temperatures are warmer during this period. Rainfall varies from 12 inches (300mm) in the extreme north to 59 inches (1,500mm) in the far south, and although showers don't last very long they can cause disruption to transport. Dry season temperatures average between 72°F and 86°F (22°C and 30°C). Dakar temperatures average 75° F (24°C) from January to March, 77° F to 81° F (25°C to 27°C) in April, May and December, and 86° F (30°C) between June and October.
Passport
All visitors must either hold a return or onward ticket and all documents for next destination. Passports must be valid for at least three months on entry; however, it is highly recommended that passports have at least six months validity remaining after your intended date of departure from your travel destination as immigration officials sometimes apply different rules to those stated by travel agents and official sources.
Entry Requirements
Canadian
nationals must have a passport valid for three months after date of arrival in Senegal. A visa is not required for stays of up to 90 days.
show more ...
Health
Stomach troubles are the most common health concerns for travellers in Senegal. Visitors should watch what they eat and drink: do not drink untreated tap water. Protection against mosquito bites is essential as malaria, dengue fever and chikungunya fever occur; malaria is prevalent throughout the country and prophylaxis is recommended for all travellers. A yellow fever vaccination is a requirement for entry to Senegal if coming from an infected area, but all travellers should be vaccinated against yellow fever as a precaution; other recommended vaccinations include hepatitis A, polio, tetanus and typhoid. Outbreaks of meningococcal infections occur and vaccination is recommended for travel during the dry season (November to May). Outbreaks of cholera also occur. There is a risk of bilharzia, and visitors should avoid contact with stagnant, fresh water.
Medical facilities are good in Dakar, but are limited in the rest of the country. Travellers should ensure they have comprehensive health insurance.
Safety
Most visits to Senegal are trouble-free, but street crime and pick-pocketing, especially in Dakar, are common. Visitors are advised to conceal valuables from the public eye. Travel by road in the Casamance region west of Kolda is unsafe due to the activities of separatist rebel groups and bandits, and should be avoided.
Emergency Phone Number
17 (Police); 15 (Ambulance); 18 (Fire)
* For current safety alerts, please visit
Foreign travel advice - GOV.UK
or
Travel.State.Gov
Money
The official currency is the West African CFA Franc (XOF), which is divided into 100 centimes. Only currency issued by the Bank of West African States (Banque des Etats de l'Afrique de l'Ouest) is considered valid. There are ATMs in Dakar, but banking facilities are limited in the rest of the country. Credit cards are only accepted by major establishments catering to the tourist trade, with American Express being the most widely accepted; commission is charged. Travellers cheques can be cashed in Dakar.
Exchange Rate
Not available.
Embassies of Senegal
Embassy of Senegal, Washington DC: +1 202 234 0540.
Embassy of Senegal, London (also responsible for Ireland): Tel: +(44) 20 7938 4048.
Embassy of Senegal, Ottawa: +1 613 238 6392.
Consulate-General of Senegal, Melbourne: +61 (0)3 9348 0466.
Embassy of Senegal, Pretoria, South Africa: +27 (0)12 460 5263.
Foreign Embassies in Senegal
United States Embassy, Dakar: +221 (0)33 879 4000.
British Embassy, Dakar: +221 (0)33 823 7392.
Canadian Embassy, Dakar (also responsible for Australia): +221 (0)33 889 4700.
South African Embassy, Dakar: +221 (0)33 865 1959.
Customers
The majority of the population is Muslim and it is generally a conservative society where dress and behaviour should be modest, especially outside the main tourist areas. Public displays of affection between men and women should be avoided, and acts of homosexuality are illegal. Drunkenness is offensive. Religious customs should be respected, particularly during the holy month of Ramadan when eating, drinking and smoking are prohibited by the Muslim faith; visitors should avoid eating and drinking in public during this time.
Business
In Senegal, it is expected of the visitor to dress formally. Greetings are very important in Senegal and the visitor must ensure that every member at the meeting is greeted and acknowledged at least once. The shaking of hands is the standard greeting for men and women in business. It is a good idea to be punctual even if the host is not. Meetings can often take longer than anticipated and patience may prove a virtue. Business is usually conducted in French and a translator may be needed, although many Senegalese businessmen will know some English. It is important to find out beforehand how the contacts are to be addressed. Business hours are generally 8am to 5pm Monday to Friday with an hour taken over lunch.
Tipping
Larger hotels and restaurants usually include a service charge of 10 to 15 percent. Taxi drivers are not usually tipped.
Public Holidays in Senegal
Map of Senegal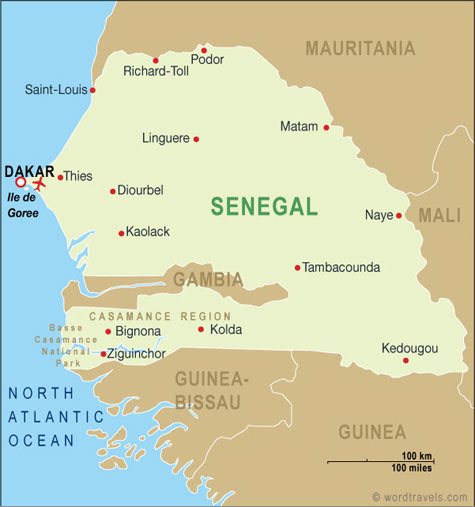 Travel Guide powered by www.wordtravels.com, copyright © Globe Media Ltd. All rights reserved. By its very nature much of the information in this guide is subject to change at short notice and travellers are urged to verify information on which they're relying with the relevant authorities. Globe Media and UNIGLOBE Travel does not accept any responsibility for any loss or inconvenience to any person as a result of information contained above.