General
Money
Entry Requirements
Health & safety
Weather
Embassies
Etiquette
Public Holidays
Attractions
Map
---
Introduction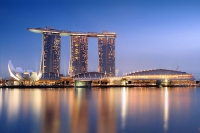 Marina Bay Sands, Singapore ©Someformofhuman
Beguiling Singapore is a modern city-state embracing economic progress against the backdrop of age-old tradition. The customs that underpin community life are created out of an ethnic mix that includes predominantly Chinese, Indian and Malay groups.
Singapore is an island off the southern tip of Malaysia, linked to it by a causeway. It evolved from a sleepy fishing village in the early 1900s to become one of Asia's economic leaders. Sir Thomas Stamford Raffles landed on Singapore's northern bank in 1819 and felt that its location made it ideal as a trading station. From here Singapore's landscape was transformed by British colonial rule, Japanese occupation, communist insurrection and finally, independence. Since becoming a republic in 1965 the island has experienced increased prosperity and exponential economic growth. Shimmering skyscrapers tower above the slick financial districts and elegant colonial buildings preserve a lingering old-world charm.
The core of downtown Singapore is formed by the Colonial District, embellished by cathedrals and cricket lawns. The notable sites of the area include the Empress Place Building and the luxurious Raffles Hotel. Although most of old Singapore has been demolished to make way for the modern city, many major landmarks within the Colonial District have been preserved. The surrounding ethnic enclaves of Little India, Chinatown and the Arab Quarter also provide glimpses into the traditions that have sustained their respective communities through the centuries.
Communications
The international access code for Singapore is +65. The outgoing code is either 001, 002, 008 or 018, depending on the service provider, followed by the relevant country code (e.g. 00144 for the United Kingdom). Public phones are good for local and international calls; they take credit cards or phonecards, which can be bought at newspaper kiosks and Telecom shops. Calls made from hotels are free of any surcharges. Several local mobile phone operators use GSM 900/1800 networks. There are internet cafes throughout Singapore.
Emergencies
Emergencies: 999 (Police); 995 (Ambulance).
Languages Spoken
Singapores official languages are English, Mandarin, Malay and Tamil. A patois called Singlish, or Singaporean English is widely spoken. It is the by-product of mixing English, Chinese and Malay syntax and idiom.
Duty Free
Travellers to Singapore over 18 years do not have to pay duty on 1 litre of wine, spirits and beer unless they are arriving from Malaysia. Chewing gum and tobacco products must be declared on arrival. Strictly prohibited is the trafficking in illegal drugs, which carries the death sentence. Prohibited items include meat and meat products, and firearms and explosives without a permit.
Electricity
Electrical current is 230 volts, 50Hz. Three-pin, square-shaped plugs are in use.
Climate Info
Situated only one degree north of the equator, it is not surprising that Singapore has a tropical climate, meaning that it is hot and humid all year round with hardly any variation in temperature between seasons; in fact, Singapore doesn't really have seasons. Travellers to Singapore would be wise to take an umbrella, because rain is abundant and possible all year round, usually falling in heavy downpours. The wettest months are between November and January, which is the monsoon period. There is generally more rain in the west of the island than in the east. Average temperatures range between 79°F (26°C) and 86°F (30°C) during the day, with cooler temperatures at night. April and May are the hottest months. Temperatures in Singapore can reach as high as 95°F (35°C) and the lowest recorded temperature in the country was 67°F (19°C) in 1934. The air-conditioning in most buildings provides a welcome escape from the heat and humidity, but is sometimes so cool that visitors will require light sweaters indoors. Between June and September Singapore may suffer from air pollution due to forest fires in Indonesia.
There is no concrete best time to visit Singapore weather-wise, and it is best to time holidays to coincide with festivals and events that are of interest.
Passport
Travellers should hold confirmed documents and tickets for onward or return travel and enough funds to cover their stay. Male travellers with long hair are advised to tie their hair back on arrival. Women who are six months pregnant or more may be refused entry. All nationals, regardless of visa requirements, may be issued with a Social Visitor's Pass on arrival allowing for a stay of 14 or 30 days provided their visit is for touristic or business purposes. Extensions are possible for S$40, but the initial Pass is free. Passports must be valid for at least six months from date of arrival. It is highly recommended that passports have at least six months validity remaining after your intended date of departure from your travel destination. Immigration officials often apply different rules to those stated by travel agents and official sources.
Entry Requirements
Canadian
passport holders do not require a visa for travel to Singapore for a stay of up to 30 days. Extensions are possible for a fee of SGD 40. Passports should be valid for six months beyond date of arrival.
show more ...
Health
Travellers from countries where yellow fever occurs need to present vaccination records on arrival in Singapore to prove they are not infected. No other vaccinations are required but vaccinations are recommended for hepatitis A and hepatitis B. A Japanese encephalitis vaccination is recommended for travellers spending a month or more in rural areas or for those spending substantial time outdoors in rural areas, but as the country is highly urbanised this is seldom necessary. There is a high risk of dengue fever and there have been outbreaks of chikungunya fever in recent years as well - both are mosquito-borne diseases and measures should be taken to avoid mosquito bites. Visitors should also avoid poorly cooked food, particularly seafood, and be cautious of certain types of fish that contain biotoxins even if cooked.
Health care is excellent in Singapore but also very expensive and comprehensive medical insurance is advised. Pharmacies are well stocked in Singapore but it is still advisable to take along all required medication, in its original packaging, accompanied by a signed and dated letter from a doctor detailing what it is and why it is needed.
Safety
Singapore is a very safe travel destination with crime generally limited to occasional petty theft. The Singaporean government has stepped up security measures due to increase risk of terror attacks in the region and is committed to maintaining Singapore's reputation as a safe destination.
Emergency Phone Number
Emergencies: 999 (Police); 995 (Ambulance).
* For current safety alerts, please visit
Foreign travel advice - GOV.UK
or
Travel.State.Gov
Money
Singapore's currency is the Singapore Dollar (SGD), which is divided into 100 cents. The US and Australian Dollars, Yen and British Pound are also accepted in the larger shopping centres. Major credit cards are accepted in hotels, shops and restaurants. ATMs are widely distributed and banks advance cash against the major credit cards. Banks are open daily, but some do not do foreign exchange on Saturdays.
Exchange Rate
Not available.
Embassies of Singapore
Singapore Embassy, Washington DC, United States: +1 202 537 3100.
Singapore High Commission, London, United Kingdom (also responsible for Ireland): +44 (0)20 7235 8315.
Consulate of Singapore, New York City, USA (also responsible for Canada): +1 212 223-3331
Singapore High Commission, Canberra, Australia: +61 2 6271 2000.
Singapore High Commission, Pretoria, South Africa: +27 (0)12 430 6035.
Singapore High Commission, Wellington, New Zealand: +64 (0)4 470 0850.
Foreign Embassies in Singapore
United States Embassy, Singapore: +65 6476 9100.
British High Commission, Singapore: +65 6424 4200.
Canadian High Commission, Singapore: +65 6854 5900.
Australian High Commission, Singapore: +65 6836 4100.
South African High Commission, Singapore: +65 6339 3319.
Irish Embassy, Singapore: +65 6238 7616.
New Zealand High Commission, Singapore: +65 6235 9966.
Customers
Singapore is a fairly diverse society and has been moulded by its immigrant population, primarily Malay, Chinese and Indian, along with the large expat community. The city is incredibly efficient and the citizens very law-abiding - there are fines issued for just about any offence in Singapore, including smoking in public places, jaywalking, littering and for eating, drinking or chewing gum. There are even fines for not flushing public toilets so it goes without saying that getting involved in illegal drugs is not advisable; drug trafficking carries a maximum penalty of death. Chinese Singaporeans have three names, the first of which is their surname, or family name. As a result visitors should be prepared for hotels mistakenly reserving rooms under their first names. For clarity surnames may be underlined.
Business
Business in Singapore is conducted formally. The adherence to a dress code is strict, with suits the preferred business attire. Punctuality is essential in all business meetings, unlike social engagements where a 'fashionably-late' policy is observed. Appointments should be made at least two weeks in advance. The exchange of business cards is vital upon introduction and the ceremony of this exchange is important for creating good relations. Business cards are to be treated with respect and not folded, written upon or vandalised in any way. Shaking hands is the common form of greeting for both men and women and may last up to 10 seconds. The person is to be addressed by their respective title followed by their surname. It is a good idea to ask beforehand how the person is correctly addressed as this may vary depending on the different cultures within Singapore. Business hours are generally 9am to 5pm, Monday to Friday, with an hour taken over lunch.
Tipping
Tipping is not encouraged as most hotels and restaurants in Singapore already levy a 10 percent service charge on customers' bills. Tipping is not a way of life in Singapore, but is appreciated for excellent service.
Public Holidays in Singapore
| | | |
| --- | --- | --- |
| | 2017 | 2018 |
| Hari Raya Haji (Feast of the Sacrifice) | 2 Sep | 22 Aug |
| Hari Raya Puasa (End of Ramadan) | 26 Jun | 15 Jun |
| Chinese New Year | 28 Jan | 16 Feb |
| New Years Day | 1 Jan | 1 Jan |
| Good Friday | 14 Apr | 30 Mar |
| Labour Day | 1 May | 1 May |
| Vesak Day | 10 May | 30 Apr |
| National Day | 9 Aug | 9 Aug |
| Deepavali (Hindu Festival of Light) | 19 Oct | 8 Nov |
| Christmas Day | 25 Dec | 25 Dec |
Overview
Singapore's sightseeing attractions reflect the diverse population which calls the country home. In downtown Singapore, the communities of Little India and the Arab District give an exotic cultural spice to a country ultimately known more for urban planning and a high-tech economy than its history. Similarly, Chinatown stands out with its traditions and vibrant decorations in contrast to a very modern city. The creative achievements of this modernity can be viewed at the Red Dot Design Museum, the many shopping malls and the Gardens by the Bay, a fascinating marriage of technology and nature.
To escape the urban rat race tourists can enjoy numerous stunning gardens and parks, including the Singapore Botanical Gardens, the Chinese and Japanese Gardens, the Jurong Bird Park and the Singapore Zoo. Probably the best way to experience nature within the city limits is a visit to Bukit Timah Nature Reserve, where swathes of tropical rainforest have been preserved. For others ferrying between islands can be the best escape. Sentosa Island is a fun theme park with myriad attractions, including beaches, aquariums and amusement parks like Universal Studios Singapore. The more relaxing Palau Ubin island is interesting for its Malay culture and is an ideal spot to go cycling or hiking along unspoiled beaches and through the forested interior.
Visitors planning a lot of travel around Singapore should consider purchasing the Singapore Tourist Pass, which allows unlimited transport on the bus and train systems.
Map of Singapore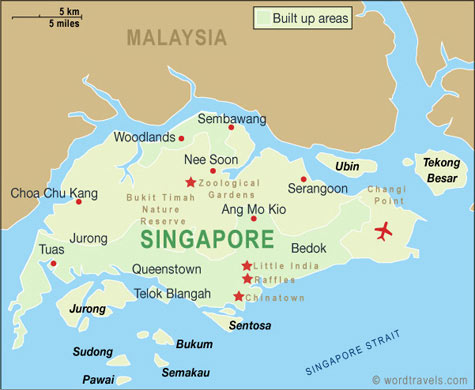 Travel Guide powered by www.wordtravels.com, copyright © Globe Media Ltd. All rights reserved. By its very nature much of the information in this guide is subject to change at short notice and travellers are urged to verify information on which they're relying with the relevant authorities. Globe Media and UNIGLOBE Travel does not accept any responsibility for any loss or inconvenience to any person as a result of information contained above.