General
Money
Entry Requirements
Health & safety
Weather
Embassies
Etiquette
Public Holidays
Attractions
Map
---
Introduction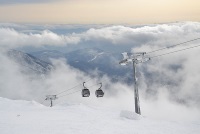 Slovakia ©Marcin Szala
Centrally situated in Europe, Slovakia, or the Slovak Republic, is an up-and-coming tourist destination that beckons travellers from around the world to its rugged mountainous scenery, rich architectural history and competitive prices.
The centre for Slovakia's arts and culture is the capital city, Bratislava, which boasts many museums, art galleries, palaces and ornamental churches in and around its historic Old Town district.
The Tatra Mountains are a popular destination all year round, offering skiing in winter and hiking and climbing in summer; while throughout the country numerous mineral springs and natural spas cater for health-conscious tourists looking to relax and be pampered. Scattered among the hills and valleys of the lowlands are numerous fortified castles, relics from the Middle Ages that were built near to almost every hamlet and major road for protection from invaders. Also among the country's greatest architectural treasures are the ancient wooden churches in northeast Slovakia, unique in their construction without nails, and still functioning as religious buildings today.
Slovakia became an independent nation in 1993 when Czechoslovakia split into the Czech and Slovak Republics. The Czech Republic went on to revel in the glory of its capital city, Prague, which has become one of the must-see cities in Europe; while Slovakia's quiet charms have remained relatively unexplored. Nowadays the beautiful scenery, ski resorts, historic towns and easy access from the rest of Europe means that more and more travellers are starting to add Slovakia to their list of top European holiday destinations.
Communications
The international dialling code for Slovakia is +421. The outgoing code is 00 followed by the relevant country code (e.g. 0044 for the UK). Area codes are used, e.g. Bratislava is (0)2. Internet cafes are common in most large towns and there are some free wifi areas in Bratislava. Most towns have public phones and cards can be purchased in post offices and newspaper agents.
Emergencies
112 (General Emergency); 150 (Fire and Rescue), 155 (Ambulance), 158 (Police)
Languages Spoken
Slovak is the official language, which is closely related to Czech. English and German are the most commonly spoken foreign languages, although outside Bratislava English is not widely understood.
Duty Free
Passengers arriving from EU countries do not need to pay duty on any items provided they are for personal use or intended as gifts. Travellers to Slovakia from non-EU countries do not have to pay customs duty on 200 cigarettes or 50 cigars or 250g tobacco; 2 litres of wine or 1 litre of distilled liquor and spirits; and 50g of perfume.
Electricity
Electrical current is 220/230 volts, 50Hz. Two round-pin plugs are used, similar to other European countries.
Climate Info
The Slovakian climate is generally temperate, with four distinct seasons. Summers are warm with temperatures in July averaging 70°F (21°C); while the coldest month, January, averages 28°F (-2°C). Winter brings snowfall, which usually lasts from November to May in the Tatras. The mountains are colder and wetter than the lowlands in general, with most rain falling in June and July. Autumn and spring are good times to visit Slovakia, as the weather is mild and the crowds are thin.
Passport
The borderless region known as the Schengen area includes the following countries: Austria, Belgium, Czech Republic, Denmark, Estonia, Finland, France, Germany, Greece, Hungary, Iceland, Italy, Latvia, Lithuania, Luxembourg, Malta, The Netherlands, Norway, Poland, Portugal, Slovakia, Slovenia, Spain and Sweden. All these countries issue a standard Schengen visa that has a multiple entry option that allows the holder to travel freely within the borders of all. It is highly recommended that passports have at least six months validity remaining after your intended date of departure from your travel destination. Immigration officials often apply different rules to those stated by travel agents and official sources.
Entry Requirements
Canadian
nationals require a passport valid for at least three months beyond the period of intended stay. No visa is required for stays of up to 90 days. Visitors must hold health insurance and proof of sufficient funds to cover their stay.
show more ...
Health
There are no vaccinations required for travel to Slovakia. No special precautions are necessary, except for visitors intending to spend a prolonged period in the forests and rural areas, in which case a vaccination for tick-borne encephalitis should be considered. Slovakia has a reciprocal health agreement with most EU countries, providing emergency health care on the same terms as Slovak nationals. EU travellers should carry a European Health Insurance Card (EHIC) with them. It is still recommended that visitors take out comprehensive medical insurance, including mountain evacuation. Hospitals are available in all major towns, and pharmacies and clinics exist in the tourist areas and smaller towns, but little English is spoken.
Safety
Slovakia is generally a safe country to visit and most visitors will experience a trouble-free holiday. In the cities though, it is wise to be careful of personal possessions, particularly in popular tourist areas and on public transport, due to incidents of pick-pocketing and bag snatching.
Emergency Phone Number
112 (General Emergency); 150 (Fire and Rescue), 155 (Ambulance), 158 (Police)
* For current safety alerts, please visit
Foreign travel advice - GOV.UK
or
Travel.State.Gov
Money
The unit of currency is the Euro (EUR), which is divided into 100 cents. The Euro replaced the Koruna (SKK) as the official currency in 2009. Shops are increasingly accepting credit cards, but it is best to check beforehand. ATMs are common.
Exchange Rate
Not available.
Embassies of Slovakia
Slovak Embassy, Washington DC, United States: +1 202 237 1054.
Slovak Embassy, London, United Kingdom: +44 (0)20 7313 6470.
Slovak Embassy, Ottawa, Canada: +1 613 749 4442.
Slovak Embassy, ACT, Australia (also responsible for New Zealand): +61 (0)2 6290 1516.
Slovak Embassy, Pretoria, South Africa: +27 (0)12 342 2051.
Slovak Embassy, Dublin, Ireland: +353 (0)1 661 9594.
Foreign Embassies in Slovakia
United States Embassy, Bratislava: +421 (0)2 5443 0861.
British Embassy, Bratislava: +421 (0)2 5998 2000.
Canadian Embassy, Prague, Czech Republic (also responsible for Slovakia): +420 27210 1800.
Australian Embassy, Vienna, Austria (also responsible for Slovakia): +43 (0)1 506 740.
South African Honorary Consulate, Bratislava: +421 (0)2 2077 1025.
Irish Embassy, Bratislava: +421 (0)2 5930 9611.
New Zealand Embassy, Berlin, Germany (also responsible for Slovakia): +49 (0)30 2062 10.
Customers
Visitors must carry passports with them at all times for identification purposes. Rowdy behaviour and loud noise are not allowed between 10pm and 6am. Bratislava has become a popular destination for stag parties and boisterous tourists have been fined or imprisoned for causing a public disturbance.
Business
Slovakians tend to be fairly formal in their business dealings, particularly the older generation, and women may encounter some chauvinism. The normal greeting is a handshake. Meetings usually begin with socialising and an alcoholic drink, which should not be refused. Although business may be conducted in English or German, an interpreter should be arranged and all written documents should be translated into Slovakian. Punctuality and politeness are always appreciated. Most businesses open Monday to Friday from about 9am to 5pm.
Tipping
10 percent is expected in restaurants if the service has been good. Taxi fares are usually rounded up to the nearest 10, and other service staff commonly receive small amounts.
Public Holidays in Slovakia
| | | |
| --- | --- | --- |
| | 2017 | 2018 |
| New Years Day | 1 Jan | 1 Jan |
| Epiphany | 6 Jan | 6 Jan |
| Good Friday | 14 Apr | 30 Mar |
| Easter Monday | 17 Apr | 2 Apr |
| Labour Day | 1 May | 1 May |
| Victory Day | 8 May | 8 May |
| Saints Cyril and Methodius Day | 5 Jul | 5 Jul |
| Slovak National Uprising Day | 29 Aug | 29 Aug |
| Constitution Day | 1 Sep | 1 Sep |
| Day of Our Lady of Sorrows | 15 Sep | 15 Sep |
| All Saints Day | 1 Nov | 1 Nov |
| Struggle for Freedom and Democracy Day | 17 Nov | 17 Nov |
| Christmas Eve and Christmas Day | 24 | 24 |
| St. Stephens Day (National Day) | 26 Dec | 26 Dec |
Overview
Slovakia truly has a wealth of attractions. Home to not only incredible natural beauty but also great history, visitors in Slovakia will love what it has to offer.
The High Tatras provide beautiful, unspoilt mountain landscapes, with lakes and waterfalls aplenty; one of the best starting points for hikes is Strbske Pleso, where walking trails access the lovely Skok Waterfalls among other things. Apart from the High Tatras National Park, the Slovak Paradise National Park, in the east of the country, is also a superb hiking destination, inviting visitors to explore the magical forests and valleys of Slovakia.
In addition to glorious natural resources, Slovakia is home to many ancient castles, some romantic ruins and some very well-preserved and still in use. The most popular with tourists include Spis Castle, a UNESCO-listed ruin and one of the biggest castles in Europe; Bratislava Castle, looming above the capital city; and Devin Castle, said to be more than 5,000 years old.
Slovakia is renowned for its rich folkloric traditions and well-preserved architecture, with Bratislava's Old Town home to many historic buildings, and a number of interesting skanzens, open-air museum villages, scattered around the country. The UNESCO-listed town of Vlkolinec boasts the best wooden folk architecture in the country, and the Vychodna Folk Festival, held annually in July in the village of Vychodna, is said to be one of the best folk music and dance festivals in the world.
Travel Guide powered by www.wordtravels.com, copyright © Globe Media Ltd. All rights reserved. By its very nature much of the information in this guide is subject to change at short notice and travellers are urged to verify information on which they're relying with the relevant authorities. Globe Media and UNIGLOBE Travel does not accept any responsibility for any loss or inconvenience to any person as a result of information contained above.