General
Money
Entry Requirements
Health & safety
Weather
Embassies
Etiquette
Public Holidays
Attractions
Map
---
Introduction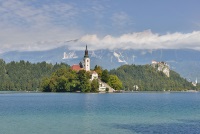 Slovenia ©Abrget47j
At half the size of Switzerland, Slovenia is a small country in the south of central Europe, packed with unusual and often unique attractions and experiences. From primeval forests, thermal springs and mysterious (limestone plateau) caves to a lively and architecturally beautiful capital city, visitors will never want for entertainment in this picturesque corner of Europe.
Sandwiched between Italy, Croatia, Hungary and Austria, with a coastline on the Adriatic Sea to the southwest, Slovenia boasts about 2,000 hours of sunshine per year in which to enjoy all its offerings. Whether relaxing on the beach, or skiing down alpine slopes, exploring the country's subterranean wonders, or relaxing at a lavish casino, visitors to Slovenia can enjoy many amazing and diverse experiences in the space of one short holiday.
The vibrant capital city sports a mix of Baroque, Renaissance and Art Nouveau architecture, and after belonging to the Austro-Hungarian Empire for many centuries, Ljubljana exudes an old-world charm and atmosphere.
The locals are proud to explain why visitors are enchanted by their country: Slovenia is the only country in the world with 'love' in its name! An up-and-coming European holiday destination, travellers are strongly urged to check out Slovenia before it is forever changed by the inevitable effects of mass tourism.
Communications
The international dialling code for Slovenia is +386. The outgoing code is 00 followed by the relevant country code (e.g. 0044 for the United Kingdom). City or area codes are in use, e.g. (0)1 for Ljubljana. Public telephones are operated with tokens or magnetic cards, which are available from newsagents, post offices and tobacco kiosks. Two major mobile phone operators provide GSM 900/1800 coverage. Internet cafes are prolific in Ljubljana and the larger towns.
Emergencies
112 (General); 122 (Fire); 133 (Police); 144 (Ambulance)
Languages Spoken
The official language of Slovenia is Slovene. Italian and Hungarian are also spoken in some communities.
Duty Free
Travellers to Slovenia from within the European Union may import the following goods duty-free: 800 cigarettes, 400 cigarillos, 200 cigars, and one kilogram tobacco; 10 litres spirits, 20 litres fortified wine or liqueur, 90 litres wine (no more than 60 litres sparkling wine), 110 litres beer.
Visitors from non-EU countries who are 17 and older may import up to 200 cigarettes, 100 cigarillos, 50 cigars or 250g tobacco. In addition, one litre spirits, or two litres fortified wine, liqueur or sparkling wine, as well as four litres wine and 16 litres beer will not be taxed. Visitors are also restricted to 50ml of perfume or 250ml of eau de toilette, and medicinal products for personal use. Other goods up to the value of €430 (€150 for those under 15 years old) will not be taxed.
Electricity
Electrical current is 230 volts, 50Hz. Round two-pin attachment plugs are most common.
Climate Info
Slovenia has a Mediterranean climate on the coast, and a continental climate with mild to hot summers and cold winters in the plateaus and valleys to the east. Most of Slovenia's annual rainfall occurs during spring in the interior regions away from the coast. Winters are cold, particularly along the eastern part of the country and in the Slovenian Alps, which are often covered in snow during the winter period. The Slovenian coastline has a sub-Mediterranean climate while the interior regions have a continental climate with chilly winters and hot summers.
Passport
The borderless region known as the Schengen area includes the following countries: Austria, Belgium, Czech Republic, Denmark, Estonia, Finland, France, Germany, Greece, Hungary, Iceland, Italy, Latvia, Lithuania, Luxembourg, Malta, The Netherlands, Norway, Poland, Portugal, Slovakia, Slovenia, Spain and Sweden. All these countries issue a standard Schengen visa that has a multiple entry option that allows the holder to travel freely within the borders of all. It is highly recommended that passports have at least six months validity remaining after your intended date of departure from your travel destination. Immigration officials often apply different rules to those stated by travel agents and official sources.
Entry Requirements
Canadian
nationals require a passport valid for at least three months beyond the period of intended stay. No visa is required for stays of up to 90 days. Visitors must hold health insurance and proof of sufficient funds to cover their stay.
show more ...
Health
Typhoid and hepatitis A vaccinations are recommended. In forested areas, hikers should guard against tick bites, as tick-borne encephalitis and Lyme disease are a risk. Mains water is safe to drink, milk is pasteurised and local meat and produce is safe to consume. Free emergency treatment is available from hospitals and some private doctors. Slovenia has a reciprocal health agreement with most EU countries, including the UK, providing emergency health care on the same terms as Slovenian nationals. EU travellers should take a European Health Insurance Card (EHIC).
Safety
There are extremely few risks involved in travel to Slovenia. The threat of terrorism is low, as is the crime rate; however, sensible precautions are advised. Travellers should guard their valuables from pickpockets and petty thieves, lock their cars, and should always avoid protests, strikes and other public demonstrations. A copy of your passport or some other form of identification should be carried at all times.
Emergency Phone Number
112 (General); 122 (Fire); 133 (Police); 144 (Ambulance)
* For current safety alerts, please visit
Foreign travel advice - GOV.UK
or
Travel.State.Gov
Money
The Euro (EUR) is the official currency, which is divided into 100 cents. Banks offer the best exchange rates for cash. Banking hours are generally 9am to 5pm during the week, with some banks closing for a lunch hour at midday. Numerous bureaux de change are open outside banking hours throughout the country. Major ATMs are readily available in major cities. Credit cards are widely accepted by hotels, restaurants and shops.
Exchange Rate
Not available.
Embassies of Slovenia
Embassy of the Republic of Slovenia, Washington DC, United States: +1 202 386 6601.
Embassy of the Republic of Slovenia, London, United Kingdom (also responsible for Ireland): +44 (0)20 7222 5700.
Embassy of the Republic of Slovenia, Ottawa, Canada: +1 613 565 5781.
Embassy of the Republic of Slovenia, Canberra, Australia (also responsible for New Zealand): +61 (0)2 6290 0000.
Consulate General of the Republic of Slovenia, Cape Town, South Africa: + 27 (0)21 976 6249.
Foreign Embassies in Slovenia
United States Embassy, Ljubljana: +386 (0)1 200 5500.
British Embassy, Ljubljana: +386 (0)1 200 3910.
Canadian Consulate, Ljubljana: +386 (0)1 252 4444.
Australian Consulate, Ljubljana: +386 (0)1 234 8675.
South African Honourary Consulate, Ljubljana: +386 (0)1 200 6300.
Embassy of Ireland, Ljubljana: +386 (0)1 300 8970.
Consulate of New Zealand, Ljubljana: +386 (0)1 200 9337.
Customers
The majority of the population is Roman Catholic, and visitors should respect religious customs. Penalties for drug offences can be severe in Slovenia. A copy of one's passport or other form of identification should be carried at all times.
Business
Business etiquette in Slovenia is similar to the rest of Western Europe. Men and women should dress conservatively in formal business suits. Shaking hands with both men and women is the norm and it is considered polite to greet women first. Business cards are often exchanged after introductions, and Slovenians are usually referred to by their title and surname. Business hours are 9am to 5pm, Monday to Friday.
Tipping
A 10 percent tip is expected in restaurants, hotels and by taxi drivers.
Public Holidays in Slovenia
| | | |
| --- | --- | --- |
| | 2017 | 2018 |
| New Years Day | 1 Jan | 1 Jan |
| Culture Day | 8 Feb | 8 Feb |
| Easter Monday | 17 Apr | 2 Apr |
| Resistance Day | 27 Apr | 27 Apr |
| Labour Day | 1 May | 1 May |
| Statehood Day | 25 Jun | 25 Jun |
| Assumption Day | 15 Aug | 15 Aug |
| All Saints Day | 1 Nov | 1 Nov |
| Reformation Day | 31 Oct | 31 Oct |
| Christmas Day | 25 Dec | 25 Dec |
| Independence Day | 26 Dec | 26 Dec |
Overview
Slovenia's attractions are many and varied, with enough historical sites, cultural curiosities and outdoor activities to excite any traveller.
Appreciate the peaceful country's natural beauty and diversity as you sunbathe on the Adriatic coast, go skiing in the Alps, or wander through ancient forests and fertile valleys. Adventurous visitors should explore the wonders of subterranean Slovenia in the Postojna and Skocjan Caves, and can enjoy numerous outdoor pursuits, such as rafting, canyoning, horseback riding and kayaking, while Triglav National Park is ideal for hiking and mountaineering.
Soak up Slovenia's rich heritage in lively Ljubljana, the country's capital, or in one of the smaller towns, like well-preserved Piran on the coast, or one of the oldest towns in Slovenia, Ptuj. Travellers can learn about the country's history and culture in various museums, and can admire the mix of architectural styles evident in the old town centres, majestic palaces, and magnificent castles, such as the Bled, Ljubljana and Predjama strongholds.
Visitors can also explore the verdant Vipava Valley, where they will find delectable but underappreciated wines to accompany excellent traditional cuisine. Hosting a wealth of events and festivals each year, Slovenia is full of character and culture, and travellers should have no problem finding locals willing to share it with them.
Travel Guide powered by www.wordtravels.com, copyright © Globe Media Ltd. All rights reserved. By its very nature much of the information in this guide is subject to change at short notice and travellers are urged to verify information on which they're relying with the relevant authorities. Globe Media and UNIGLOBE Travel does not accept any responsibility for any loss or inconvenience to any person as a result of information contained above.