General
Money
Entry Requirements
Health & safety
Weather
Embassies
Etiquette
Public Holidays
Attractions
Map
---
Introduction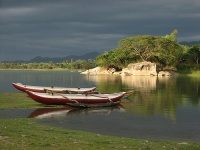 Boats on the water ©Anuradha Ratnaweera
The island of Sri Lanka lies off the southern tip of India in the Indian Ocean, a verdant paradise that is a cradle of the Buddhist faith. Apart from hundreds of miles of the world's most beautiful palm-fringed beaches, Sri Lanka boasts eight World Heritage Sites listed by UNESCO, ranging from sacred cities, palaces and cliff-top citadels to colonial strongholds, spanning nearly 3,000 years of history. To complete the picture of perfection, Sri Lanka is situated just three degrees north of the Equator, meaning the weather is constantly hot, humid and tropical. Sunny skies are the order of the day; even in the brief monsoon season there is always a daily spell of sunshine.
Adventurous visitors who enjoy some mystery and wonderment will marvel at the ancient sites of Anuradhapura, Polonnaruwa, Sigiriya, Dambulla and Panduwasnuwara, where the remains of a great civilisation are to be seen. The cities of Colombo and Kandy show the influence of the foreign colonial powers that fought for control over the strategically located island in the 16th, 17th and 18th centuries. Dutch-inspired buildings stand cheek to jowl with Victorian British mansions and Portuguese fortifications.
Historically, there was a long civil war that plagued the parts of the island paradise. However, since 2009 when the civil war officially came to an end things in the north of the country have improved significantly and beautiful untouched parts of the island became accesible to visiotrs.
Sri Lanka offers leisure and pleasure opportunities at a gentle pace; while it was once a destination reserved for only the most discerning travellers it is fast developing into a popular tourist destinations with package options to suit a range of demographics.
Communications
The international country dialling code for Sri Lanka is +94. The outgoing code is 00, followed by the relevant country code (e.g. 0044 for the United Kingdom). City or area codes are in use, e.g. (0)11 for Central Colombo. International direct dial facilities are available in Colombo and other major cities. Mobile phone operators provide GSM 900/1800 frequency networks with coverage across all the main parts of the island. Internet cafes are available in the main towns and resorts.
Emergencies
110 (Ambulance), 118 (Police)
Languages Spoken
Most people speak Sinhala, which is the national and official language. Tamil is also spoken, and English is spoken at most tourist establishments.
Duty Free
Travellers to Sri Lanka over 18 years do not have to pay duty on the following items: 2 bottles wine and 1.5 litres spirits; perfume up to 59ml and 250ml eau de toilette; and souvenirs to the value of US$250; 200 cigarettes or 50 cigars and 340g of tobacco. For family members travelling together free import applies for two members. Passengers must declare personal effects to ensure free export when they arrive in Sri Lanka. Restricted items include firearms, ammunitions, explosives and weapons, plants, fruits, birds and by-products, medication (unless it is for personal use), and goods for commercial purposes. Prohibited items include drugs or narcotics, pornographic material, and material that ridicules religious belief systems.
Electricity
Electrical current is 230 volts, 50Hz. Round, three-pin plugs are used.
Climate Info
Sri Lanka has a tropical climate, characterised by distinct wet and dry seasons, but virtually no distinction between the seasons as far as temperature is concerned: Sri Lanka is always hot and humid. The island's weather is a little complicated, however, since it has two monsoon seasons: In the southwestern half of Sri Lanka, the Yala Monsoon brings heavy rain from May to August, with the dry season lasting from December to March; the Maha Monsoon, on the other hand, brings rain to the northern and eastern parts of the island from October to January, with the dry season lasting from May to September. Note that the southwest receives a lot more annual rainfall than the north and east, and that an intercontinental monsoon period can also see rain fall across the island in October and November. The average temperature in Colombo and other coastal regions is 81°F (27°C).
Generally, the best time to visit Sri Lanka is from December to March for the west and south coasts and the Hill Country; and from April to September for the ancient cities region and the east coast. Peak tourist season is from December to March, when many visitors head to Sri Lanka to escape the European winter.
Passport
Most travellers can purchase visas on arrival. These must be paid for in USD but the amount varies. Visitors should be able to show the immigration officials proof of sufficient funds for their stay in Sri Lanka. Passengers must also hold return or onward tickets and all documents needed for the next destination. Those who prefer to arrange visas in advance can do so online or at a Sri Lankan embassy. An ETA (Electronic Travel Authorization) can be issued on arrival but can also be filled in prior to travel to Sri Lanka - this can be done online at www.eta.gov.lk. It is highly recommended that passports have at least six months validity remaining after your intended date of departure from your travel destination. Immigration officials often apply different rules to those stated by travel agents and official sources.
Entry Requirements
Canadian
nationals require passports valid for at least six months on arrival. A visa is required and can be purchased by tourists on arrival for a stay of 30 days. Extensions are possible.
show more ...
Health
Food and water borne diseases are the primary cause for ill health in Sri Lanka. Visitors should only drink bottled water, avoid ice in drinks, and take care to eat well-cooked food. Hepatitis A and hepatitis B vaccinations are recommended for all travellers to Sri Lanka. Typhoid is only really a problem in rural areas, but travellers should consider a vaccination depending on their itinerary. Yellow fever vaccination certificates are required by travellers coming from infected areas. Malaria, Chikungunya fever, Japanese encephalitis and dengue fever are a risk and protection against mosquito bites is essential. Prophylactics for malaria are also strongly recommended for all regions, except the districts of Colombo, Kalutara, Galle and Nuwara Eliya.
Travellers are strongly advised to take out good travel insurance, and seek medical advice at least three weeks before leaving for Sri Lanka. Quality medical attention may be difficult to find outside of Colombo and other big cities and medications are often in short supply in Sri Lanka. Travellers should being any medication they may require with them.
Safety
The vast majority of trips to Sri Lanka are trouble free. However, there is some risk of terrorism in Sri Lanka, and although foreigners have not been the targets of previous attacks, there is a risk of being caught up in incidents. The Liberation Tigers of Tamil Eelam (LTTE) suffered a defeat by the Sri Lankan government in 2009, but there have been scattered attacks since then. Visitors should keep themselves informed of developments and remain vigilant.
As a result of the conflict much of the north and east remains heavily mined, particularly around the A9 road to Jaffna. Although terrorism has always been more of a concern in the north, attacks have also taken place in central and southern Sri Lanka, in areas popular with tourists, and civilians have been targeted. Attacks have also occasionally occurred in the south, including in the tourist town of Galle. Security has been increased in the south of the country, particularly in Colombo, and road check points are common. There have been recent bomb explosions on public transport in central Colombo.
Violent crime against foreigners is very rare, but there have been cases of sexual assault and robbery in rural areas and women are advised to take care when travelling alone. Credit card fraud is the most common form of crime against tourists in Sri Lanka.
Emergency Phone Number
110 (Ambulance), 118 (Police)
* For current safety alerts, please visit
Foreign travel advice - GOV.UK
or
Travel.State.Gov
Money
The unit of currency is the Sri Lanka Rupee (LKR), which is divided into 100 cents. Major credit cards are widely accepted in major cities. ATMs are becoming more common, but outside the main cities they are unlikely to accept international cards. Credit cards should be used with caution due to the potential for fraud. Foreign currency can be exchanged at bureaux de change, banks and hotels. Banks are closed on Sundays.
Exchange Rate
Not available.
Embassies of Sri Lanka
Sri Lanka Embassy, Washington, United States: +1 202 483 4025.
Sri Lanka High Commission, London, United Kingdom (also responsible for Ireland): +44 (0)20 7262 1841.
Sri Lanka High Commission, Ottawa, Canada: +1 613 233 8449.
Sri Lanka High Commission, Canberra, Australia (also responsible for New Zealand): +61 (0)2 6198 3756.
Sri Lanka High Commission, Pretoria, South Africa: +27 (0)12 460 7679.
Foreign Embassies in Sri Lanka
United States Embassy, Colombo: +94 (0)11 249 8500.
British High Commission, Colombo: +94 (0)11 539 0639.
Canadian High Commission, Colombo: +94 (0)11 522 6232.
Australian High Commission, Colombo: + 94 (0)11 246 3200.
South African High Commission, Colombo: + 94 (0)11 246 3000.
Honorary Consul of Ireland, Colombo: +94 (0)11 258 7895.
New Zealand High Commission, New Delhi, India (also responsible for Sri Lanka): +91 (0)11 2688 3170.
Customers
Photography near government or military buildings is prohibited in Sri Lanka. Homosexuality is illegal. Topless sunbathing is not allowed, and visitors, particularly women, should cover up when entering Buddhist sites. It is considered offensive to pose for photographs in front of a Buddha statue. Smoking and drinking in public are forbidden. Honour, or personal dignity, is extremely important to Sri Lankans and causing an individual to 'lose face' by public criticism or anger should be avoided.
Business
In Sri Lanka, due to the warm climate, the dress etiquette may vary according to various sectors of business. In the more formal sectors, men will be expected to wear lightweight suits, but a more casual approach is acceptable during the warmer months depending on regulation. Appointments are to be made in advance and business cards to be swapped upon first meeting. It is considered rude to be late for meetings. Business hours are generally 9am to 5pm Monday to Friday with an hour taken at lunch.
Tipping
A 10 percent service charge is added to most restaurant and hotel bills. Tipping is a customary way to show appreciation for almost all services and small amounts are sufficient, otherwise 10 percent of the amount due is standard. There is no need to tip taxi drivers.
Public Holidays in Sri Lanka
| | | |
| --- | --- | --- |
| | 2014 | 2015 |
| New Years Day | 1 Jan | 1 Jan |
| Independence Day | 4 Feb | 4 Feb |
| Birth of the Prophet | 13 Jan | 3 Jan |
| Good Friday | 18 Apr | 3 Apr |
| May Day | 1 May | 1 May |
| Id al Fitr (End of Ramadan) | 28 Jul | 18 Jul |
| Hadji Festival | 4 Oct | 23 Sep |
| Sinhala and Tamil New Year Day | 13 Apr | 13 Apr |
| Christmas Day | 25 Dec | 25 Dec |
| Deepawali | 24 Oct | 11 Nov |
Overview
Tourist attractions in Sri Lanka have accumulated over a long and interesting history, leaving many things to see including seven UNESCO World Heritage Sites. Sri Lanka's history can be experienced at the fascinating ancient sites of Anuradhapura, Polonnaruwa, Sigiriya, Dambulla and Panduwasnuwara. The National Museum in Colombo is a good stop for those passing through the city as it houses a variety of artefacts illustrating Sri Lanka's complex culture and history. The complexity of this multi-cultural country is also apparent elsewhere in the capital city, like in the Pettah Bazzar district where exotic smells and goods are traded. Calmer attractions in Sri Lanka include the lovely seafront in Galle, a coastal town very popular with tourists, or the peaceful lake city of Kandy, which has many historical attractions.
For those keen to leave the cities and towns altogether attractions include treks into Yala National Park and up Sigiriya or Adam's Peak. Of course, many prefer Sri Lanka's beautiful sandy beaches, which stretch hundreds of miles, to any amount of sightseeing. The best beach destinations in Sri Lanka include the picturesque fishing village of Marawila, on the northwest coast, the resort town of Negombo, on the west coast, and the gorgeous Weligama Bay, in the south.
Map of Sri Lanka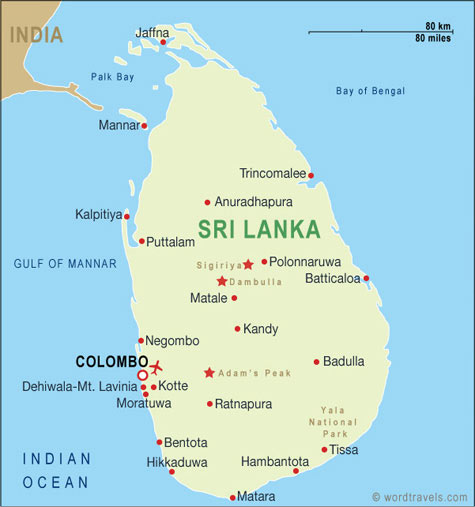 Travel Guide powered by www.wordtravels.com, copyright © Globe Media Ltd. All rights reserved. By its very nature much of the information in this guide is subject to change at short notice and travellers are urged to verify information on which they're relying with the relevant authorities. Globe Media and UNIGLOBE Travel does not accept any responsibility for any loss or inconvenience to any person as a result of information contained above.