General
Money
Entry Requirements
Health & safety
Weather
Embassies
Etiquette
Public Holidays
Attractions
Map
---
Introduction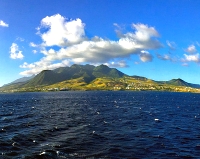 The twin-island nation of St Kitts and Nevis, situated in the Leeward Islands of the eastern Caribbean, is shaped rather like a tennis racquet and ball - the larger St Kitts is separated from its ball-shaped southern counterpart, Nevis, by a two-mile (3km) channel called The Narrows. St Kitts and Nevis is the smallest sovereign state in the Americas, both by area and population, but despite this the islands pack a big touristic punch.
At first glance, the sleepy islands appear to be forgotten in time: a pair of quiet, lush islands that convey nothing of their former prosperity and turbulent history. From a wealthy position as the most illustrious sugar colony in the Caribbean in the early 18th century, the islands became the centre of conflict, as European powers fought for control of the territory, and the rich waters became an irresistible stalking ground for pirates who lay in wait for the merchant ships.
Today the population of St Kitts and Nevis consists mainly of descendants of the slaves who were shipped from Africa to work the sugar plantations. Vestiges of splendid estates are all that remain as a reminder of the infamously profligate way of life of the rich and famous of days gone by, but the beautiful island nation now attracts jet-setting tourists.
St Kitts and Nevis have become the tourist pearls of the Caribbean, valued today more as a tropical paradise than anything else, with clear and inviting waters, sandy beaches and a natural splendour to stun even the most avid city-slicker. Together with a diverse range of activities, historical sites, and the charm of their two capital harbour towns, the volcanic islands are a seductive blend of colour, sunshine and luxurious relaxation.
Communications
The international dialling code for St Kitts and Nevis is +1 869. The outgoing code is 1 for the Caribbean, USA and Canada, and 011 for all other international destinations followed by the relevant country code (e.g. 01127 for South Africa). City/area codes are not in use. Internet services are widely available at hotels and internet cafes. Cable and Wireless Caribbean Cellular (St Kitts) Ltd (GSM 850/1900) and Wireless Ventures Ltd (GSM 900/1800) provide cellular phone service.
Emergencies
Emergencies: 911.
Languages Spoken
English is the official language.
Duty Free
Travellers over the age of 18 may import 200 cigarettes or 50 cigars or 250g tobacco, and 1.5 litres of wine or spirits without paying customs duty.
Electricity
Electrical current is 230 volts, 60 Hz, but a 117-volt supply is available in most hotels. Round three-pin plugs and three-pin rectangular blade plugs (as in the UK) are in use.
Climate Info
The climate of St Kitts and Nevis is tropical, but sea breezes keep the islands relatively cool. There are no definite seasons; the yearly average temperature is 79°F (26°C). Although rain is possible throughout the year, the average is higher between July and November, which coincides with the hurricane season.
Passport
Although a maximum stay of either three or six months is indicated in official requirements, essentially immigration officials will decide how long visitors are legally allowed to stay in St Kitts and Nevis upon arrival. Visitors are recommended to hold confirmed return or onward tickets, all documents needed for next destination and sufficient funds to cover their stay. As part of the Western Hemisphere Travel Initiative (WHTI), all travellers travelling between the United States and Canada, Mexico, Bermuda, and the Caribbean region are required to present a passport or other valid travel document to enter or re-enter the United States. If departing from the USA a valid passport will be required by immigration authorities. It is highly recommended that passports have at least six months validity remaining after your intended date of departure from your travel destination. Immigration officials often apply different rules to those stated by travel agents and official sources.
Entry Requirements
Canadians
require a passport valid for at least six months beyond period of stay. A visa is not required for a stay of up to six months.
show more ...
Health
No vaccinations are required for travel to the islands, but a yellow fever certificate is required from visitors travelling from a yellow fever infected country. Travellers should also consider getting a vaccination for hepatitis A. Dengue fever is on the increase, and precautions against mosquito bites should be taken. Medical facilities are adequate, but limited, and health insurance is essential, which should include emergency air evacuation. Most doctors and hospitals expect cash payment.
Safety
Although most visits to the islands are trouble-free, visitors should still guard against robbery and other crimes of opportunity. Valuables should be left in hotel safes where possible and remote places, particularly beaches, should be avoided, especially after dark. Hurricane season normally runs from June to November.
Emergency Phone Number
Emergencies: 911.
* For current safety alerts, please visit
Foreign travel advice - GOV.UK
or
Travel.State.Gov
Money
The official currency is the East Caribbean Dollar (XCD), which is divided into 100 cents. It is tied to the US dollar at a rate of US$1=EC$2.70. Most businesses accept US Dollar notes as payment, but change is given in EC$. Major credit cards are widely accepted, and major currencies can be exchanged at banks, with US Dollars the cheapest to exchange. Most banks are closed on weekends, but provide 24-hour ATM services.
Exchange Rate
Not available.
Embassies of St Kitts and Nevis
St Kitts and Nevis Embassy, Washington DC, United States: +1 202 686 2636.
St Kitts and Nevis High Commission, London, UK: +1 020 7937 9718.
High Commission for the Eastern Caribbean States, Ottawa, Ontario: +1 613 236 8952.
Foreign Embassies in St Kitts and Nevis
United States Embassy, Bridgetown, Barbados (also responsible for St Kitts-Nevis): +1 246 227 4000.
British High Commission, Bridgetown, Barbados (also responsible for St Kitts and Nevis): +1 246 430 7800.
Canadian High Commission, Bridgetown, Barbados (also responsible for St Kitts-Nevis): +1 246 429 3550.
Australian High Commission, Port of Spain, Trinidad and Tobago (also responsible for St Kitts-Nevis): +1 868 822 5450.
South African High Commission, Kingston, Jamaica (also responsible for St Kitts-Nevis): +1 876 620 4840.
Customers
Nudity is not allowed on beaches and beachwear should not be worn in the towns or villages. It is an offence to wear camouflage clothing. Homosexuality is illegal. The penalties for drug-related offenses are severe.
Business
Business in St. Kitts and Nevis is conducted in a relatively informal manner, but fairly formal dress is expected despite the heat. Handshakes for both men and women are the common form of greeting, and business cards should be exchanged immediately after being introduced. Business hours are generally 8am to 4pm Monday to Friday, with an hour taken at lunch.
Tipping
A 10 percent service charge is usually included in hotel and restaurant bills, otherwise it is customary to leave 10 to 15 percent of the bill, depending on the service. Taxi drivers receive 10 to 15 percent of the fare.
Public Holidays in St Kitts and Nevis
Overview
St Kitts and Nevis is home to some incredible attractions and makes provision for not only the beach-goers, but also tourists interested in history as well as the greater outdoors.
Top attractions in St Kitts and Nevis include the UNESCO-listed Brimstone Hill Fortress and Alexander Hamilton House for those looking for some history, the Royal St Kitts Golf Club for the golfers, and the mountain peaks of Mount Liamuiga and Mount Nevis for those looking for outdoor adventure. Those who are only in the country for a day should consider doing a circuit on the Scenic Railway, which takes in a lot of the island scenery.
Of course, the beaches are the main draw card for most visitors, with the dual pleasures of Caribbean and Atlantic shores. Favourites include Frigate Bay South, where The Strip offers endless entertainment; Frigate Bay North, a long Atlantic stretch of coastline, seldom crowded; and Majors Bay, a pristine, golden beach with calm waters. Visitors are also enticed by Pinney's Beach, on Nevis, widely acknowledged as one of the best beaches in the Caribbean. For those looking to spot a celebrity or two, Oualie Beach, on Nevis, is where they will most likely be found. The beach is also ideal for scuba diving and other watersports. For something different Pump Bay and Belle Tete Beach, situated in Sandy Point on St Kitts, are sought after for their black and grey sand.
Map of St Kitts and Nevis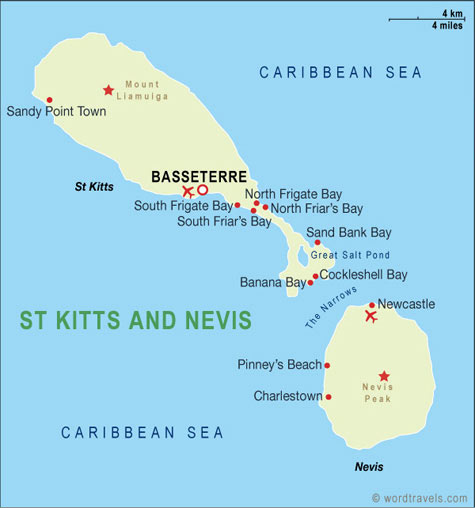 Travel Guide powered by www.wordtravels.com, copyright © Globe Media Ltd. All rights reserved. By its very nature much of the information in this guide is subject to change at short notice and travellers are urged to verify information on which they're relying with the relevant authorities. Globe Media and UNIGLOBE Travel does not accept any responsibility for any loss or inconvenience to any person as a result of information contained above.