General
Money
Entry Requirements
Health & safety
Weather
Embassies
Etiquette
Public Holidays
Attractions
Map
---
Introduction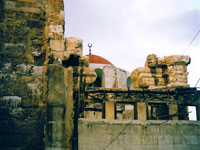 Mosque ©Judith Duk
Arabic hospitality can be somewhat overwhelming for first-time visitors, and nowhere else in the Middle East will visitors receive such a genuine demonstration of Arabic hospitality, accompanied by a refreshingly sincere welcome, than in the Arab Republic of Syria. ' ' is a phrase that will be heard often throughout the country, meaning 'You are welcome', and will more than likely be accompanied by a traditional cup of Arabic coffee or a glass of tea, or an offer to share in the family meal.
Syria offers tourists as much a cultural experience as a sightseeing one, where ancient history provides a fascinating backdrop to everyday life on the streets. Part of the ancient caravan route, the 500-year old (covered markets) are a riot of colour and turmoil, where anything from handmade chunks of soap and carpets to sheep's tongues and underwear are sold from shops crammed into the narrow cobblestone alleyways. On the streets, donkeys, 1960s American car-taxis, bicycles, minibuses and private jeeps vie for priority, while street vendors and shoe-shiners clog the sidewalks, forcing pedestrians to take on the traffic amid a cacophony of hooting and shouting.
One of the most interesting places for travellers is the capital city of Damascus, brimming with history as one of the oldest continuously-inhabited cities in the world. Then there is Aleppo in the north with its citadel, elaborately decorated (bath houses), ancient and the nearby ruins of St Simeon, considered to be one of the world's oldest remaining churches.
Time spent in Syria will be as gratifying as it is interesting, and visitors will return home with a collection of stories to tell, a wealth of fond recollections, and a camera full of photographs.
Communications
The international dialling code for Syria is +963. The outgoing code is 00 followed by the relevant country code (e.g. 0044 for the UK). City codes are in use, e.g. (0)11 for Damascus. There is good mobile phone coverage in urban areas, and many networks have international roaming agreements. Internet access is limited, but is available in Damascus.
Emergencies
Emergencies: 112 (Police); 110 (Ambulance).
Languages Spoken
Arabic is the official, and most widely spoken, language. English is widely understood by many educated Syrians in the major cities.
Duty Free
Travellers are allowed to import 200 cigarettes or 25 cigars or 250g tobacco, 1 pint of spirits, perfume for personal use, and gifts to the value of S¤250 without paying customs duty. Firearms are prohibited. There is no limit on the amount of tobacco or spirits for export.
Electricity
Electrical current is 220 volts, 50Hz. Round two-pin attachment plugs are in use.
Climate Info
Syria's climate is largely affected by the desert, with hot, sunny summers (June to August) and cold winters (December to February). Winters are milder along the coast, but wet, and humidity is higher in summer. Snowfall is common in winter on the mountains. Summer temperatures can reach in excess of 95°F (35°C) during the day, but evenings are generally cool. Spring and autumn are the best times to travel with milder temperatures, averaging 72°F (22°C) during the day.
Passport
Visitors should be aware that if their passport (or airline ticket) contains an Israeli stamp, or any evidence of an intended visit to Israel, entry to Syria will be refused even if in possession of a valid visa. Visas can only be issued on arrival to those travelling as part of an organised group if there is no Syrian representation in their home country but this should be confirmed in advance. Visas are not required for any traveller whose passport states that he or she was born in: Algeria, Bahrain, Jordan, Kuwait, Lebanon, Libya, Mauritania, Morocco, Oman, Qatar, Saudi Arabia, Sudan, Syria, Tunisia, United Arab Emirates or Yemen. All travellers must hold return or onward tickets, all documents required for the next destination and sufficient funds to cover their stay. It is highly recommended that passports have at least six months validity remaining after your intended date of departure from your travel destination. Immigration officials often apply different rules to those stated by travel agents and official sources.
Entry Requirements
Canadians
require a valid passport and a visa for travel to Syria. Visitors must hold return/onward tickets, all documents required for their next destination and sufficient funds to cover their stay.
show more ...
Health
Malaria is not a health risk in the urban areas of Syria but travellers to El Hassaka, in northern Syria, are recommended to take chloroquine between May and October. A yellow fever certificate is required by travellers arriving from an infected country in Africa or the Americas. Although medical treatment is inexpensive, standards are variable. Doctors are generally well qualified and most medical personnel speak English or French. Basic medical care is available in major cities, but medical insurance is strongly advised.
Safety
Crime levels are generally low in Syria, but the obvious major issue of terrorism in current times is something to take serious note of before making travel arrangements. Although acts of terrorism are not usually directed at tourists, there is the risk of becoming an unintentional victim, especially at places like the US Embassy.
Emergency Phone Number
Emergencies: 112 (Police); 110 (Ambulance).
* For current safety alerts, please visit
Foreign travel advice - GOV.UK
or
Travel.State.Gov
Money
The official currency is the Syrian pound (SYP), which is divided into 100 piastres. There are a few ATMs in the bigger towns, but not all cards are accepted. Credit cards are not widely used, but American Express and Diners Club are the most readily accepted. Travellers cheques are not accepted in most banks, and those that do require lengthy and complicated processes.
Exchange Rate
Not available.
Embassies of Syria
Foreign Embassies in Syria
Customers
Syria is predominantly a Muslim country and visitors should respect religious sensitivity, particularly in the matter of dress and public conduct. Women, in particular, should wear loose fitting clothes that cover most of the body. Headscarves are unnecessary unless entering mosques. Eating, drinking and smoking in public during the holy month of Ramadan should be avoided, as it is forbidden by the Muslim culture. Homosexuality is illegal. The death penalty is enforced for drug trafficking.
Business
Dress should be formal, and meetings should be arranged in advance. Business cards are usually exchanged at meetings. English and French are widely spoken in business, but translators can be arranged. Business hours are Saturday to Thursday from about 8.30am to 2.30pm, but Christian businesses open on Fridays and close on Sundays.
Tipping
Tipping is a common way of showing appreciation, but the amount is left to the discretion of the giver. Ten percent is standard in bigger restaurants.
Travel Guide powered by www.wordtravels.com, copyright © Globe Media Ltd. All rights reserved. By its very nature much of the information in this guide is subject to change at short notice and travellers are urged to verify information on which they're relying with the relevant authorities. Globe Media and UNIGLOBE Travel does not accept any responsibility for any loss or inconvenience to any person as a result of information contained above.