| | |
| --- | --- |
| Tahiti and French Polynesia | |
General
Money
Entry Requirements
Health & safety
Weather
Embassies
Etiquette
Public Holidays
Attractions
Map
---
Introduction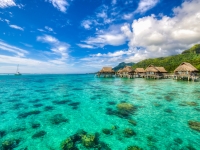 Captivating Tahiti and 118 attendant islands and atolls, all radiant with iridescent green and turquoise, make up the country of French Polynesia, a French overseas territory that is spread across an area of the South Pacific that is as big as western Europe.
The earliest explorers thought they had found paradise on earth when they came across these picture-perfect islands, and today's travellers are no less entranced by the volcanic mountain peaks clothed in lush tropical vegetation and exotic flowering plants, and encased by coral reefs, warm waters and white sand beaches. Add to this abundant beauty the warm hospitality of locals, a collection of world-class resorts, spas, fine restaurants, nightclubs and vibrant markets, and one would imagine the islands would be over-run with exuberant vacationers.
It is surprising then, to discover that despite being a dream destination for many, French Polynesia remains gloriously uncrowded. The lack of tourist hordes is mainly the result of the remoteness of the islands, ensuring that travellers who do manage to visit find the French Polynesian islands friendlier, more authentic and less crowded than many similar destinations. This means it is possible to tuck a (Tahiti's national fragrant white flower) behind your ear, pack your swimsuit and (sarong) and head off to find your own idyllic piece of Polynesian paradise, which will doubtless have a melodic ancient name meaning something like 'island of the long sky' or 'place of the double rainbow'.
One group of travellers who reliably come to French Polynesia in droves are surfers, for whom Tahiti is an established paradise. The famous French Polynesian surf spots are mostly not for the faint-hearted, with notorious breaks like Teahupoo treated as serious testing grounds for world-class surfers. However, despite its formidable reputation as a big wave surfing destination, French Polynesia does also offer fodder for beginners and surf can be found all year. It is also a gem of a travel destination for scuba divers and snorkellers.
Communications
The international dialling code for French Polynesia is +689 and the outgoing code is 00, followed by the relevant country code (e.g. 0027 for South Africa). City/area codes are not in use. There are public phone booths on all the islands, most operated with phone cards called 'Telecartes', available from the airport, some bars, magazine stands and the post offices. A GSM 900 mobile network provides limited coverage on Tahiti. Internet access is available in the larger hotels and resorts and the main tourist islands all have internet cafes.
Emergencies
17 (General Emergency Hotline)
Languages Spoken
French and Tahitian are the official languages; English is widely spoken.
Duty Free
Travellers aged 18 or over do not have to pay customs duty on 400 cigarettes or 50 cigars or 250g tobacco; 2 litres of wine, beer or cider and 2 litres of alcoholic spirits; a reasonable amount of perfume and eau de toilette for personal use; and items valued up to XPF 30,000 (for adults) or XPF 15,000 (children under 15 years) for gifts or personal use.
Electricity
The electric current in most hotels is 220 volts, 60Hz. European-style two-pin plugs, with a round pin plug, are in use.
Climate Info
French Polynesia enjoys tropical, warm and humid weather all year round, averaging eight hours of sunshine per day. The islands experience a rainy season, generally between late October and early March, when cloudy skies and brief heavy rain showers can occur. The rest of the year rain is rare and temperatures constantly high, tempered sometimes by refreshing breezes. The water temperature ranges from 79°F to 84°F (26°C to 29°C) making for extremely pleasant bathing all year round. The most popular time to visit is between May and the end of October, when temperatures are a bit milder and there is less rain, but outside of this peak season the comparative emptiness of the resorts and corresponding special prices compensate for the hotter weather.
Passport
All foreigners entering French Polynesia must hold return tickets or documents for onward travel and proof of sufficient funds. Although French Polynesia doesn't officially require it, we always recommend that passports have six months of validity remaining prior to travel.
Entry Requirements
Canadians
require a passport valid for three months after intended travel. No visa is required for a stay of up to three months in any six month period.
show more ...
Health
A yellow fever vaccination is required for travellers to French Polynesia arriving from an infected area. Vaccinations for hepatitis A and hepatitis B are recommended, and those staying long-term and eating outside of major hotels and restaurants may also want to consider a vaccination for typhoid. Malaria is not a concern but cases of dengue fever are on the rise so precautions against mosquito bites should be taken.
Tap water in hotels and resorts should be safe to drink, but bottled water is also freely available throughout the islands. Tahiti has decent medical facilities and there are a few private doctors and clinics in the outer islands but health care options are limited outside of major cities. The only decompression chamber is at Papeete. Comprehensive medical insurance is recommended for all travellers.
Safety
Visits to French Polynesia are usually trouble-free. The crime rate is low, but sensible precautions should be taken with valuables. Tropical storms and cyclones can occur between November and April.
Emergency Phone Number
17 (General Emergency Hotline)
* For current safety alerts, please visit
Foreign travel advice - GOV.UK
or
Travel.State.Gov
Money
The unit of currency in French Polynesia is the French Pacific Franc (XPF), divided into 100 centimes. The exchange rate is fairly stable as it is linked to the Euro. Banks throughout the islands are open mainly on weekdays only and are the best place to change foreign currency; rates of exchange are not as good at hotels. There are ATMs on a few of the islands, but they shouldn't be relied upon. Credit cards and US currency are readily accepted on the main islands. Tourism taxes are levied for accommodation and activities.
Exchange Rate
Not available.
Embassies of Tahiti and French Polynesia
Embassy of France, Washington DC, United States: +1 202 944 6000.
Embassy of France, London, United Kingdom: +44 (0)20 7073 1000.
Embassy of France, Ottawa, Canada: +1 613 789 1795.
Embassy of France, Canberra, Australia: +61 (0)2 6216 0100.
Embassy of France, Pretoria, South Africa: +27 (0)12 425 1600.
Embassy of France, Dublin, Ireland: +353 (0)1 277 5000.
Embassy of France, Wellington, New Zealand: +64 (0)4 384 2555.
Foreign Embassies in Tahiti and French Polynesia
United States Embassy, Suva, Fiji (also responsible for French Polynesia): +679 331 4466.
British Embassy, Paris, France (also responsible for French Polynesia): +33 (0)1 4451 3100.
Canadian High Commission, Wellington, New Zealand (also responsible for French Polynesia): +64 (0)4 473 9577
Australian Consulate-General, Noumea, New Caledonia (also responsible for French Polynesia): +687 272 414.
New Zealand High Commission, Alofi, Niue: +683 4022.
Customers
The culture in Tahiti and French Polynesia is relaxed and welcoming, with hospitality and generosity considered important values. People greet each other with a handshake or kiss on the cheek, and it is considered impolite not to greet everyone in the room unless there is a large group. Guests should remove their shoes when entering someone's home.
Business
Business etiquette is relatively informal in Tahiti and French Polynesia. French is the main language of trade, however English is often understood in more touristy areas and main urban centres. Business hours are generally 8am to 12pm and 1.30pm to 5.30pm Monday to Friday.
Tipping
Tipping in Tahiti and the islands is not required or expected - it is seen as contrary to the local custom of hospitality. Generally prices quoted are all-inclusive.
Public Holidays in Tahiti and French Polynesia
| | | |
| --- | --- | --- |
| | 2017 | 2018 |
| Christmas Day | 25 Dec | 25 Dec |
| Good Friday | 14 Apr | 30 Mar |
| New Years Day | 1 Jan | 1 Jan |
| Easter Monday | 17 Apr | 2 Apr |
| Labour Day | 1 May | 1 May |
| Victory Day | 8 May | 8 May |
| Ascension Day | 25 May | 10 May |
| Whit Monday | 5 Jun | 21 May |
| Internal Autonomy Day | 29 Jun | 29 Jun |
| Bastille Day | 14 Jul | 14 Jul |
| Assumption | 15 Aug | 15 Aug |
| All Saints Day | 1 Nov | 1 Nov |
| Armistice Day | 11 Nov | 11 Nov |
| Gospel Day | 5 Mar | 5 Mar |
Overview
French Polynesia consists of more than 100 islands so it can be hard to know where to start exploring. Most trips begin in the capital, Papeete, which is situated on the island of Tahiti, home to more than 60 percent of French Polynesia's population and the country's main airport. Tahiti is one of the most popular islands with travellers, boasting vibrant markets and some famous surf spots as well as good infrastructure and pretty beaches.
Other famously attractive French Polynesian islands include Bora Bora, known for its beautiful luxury resorts and a favourite with honeymooners and celebrities; the lovely Moorea, which is conveniently close to Tahiti and celebrated for its sandy beaches and watersports; and Rangiroa, which is widely considered one of the best scuba diving and snorkelling destinations in the world. Travellers might also want to investigate the various charms of islands like Huahine, Raiatea, Tahaa, Wallis, Nuka Hiva, Tikehau, Fakarava and Hiva Oa - the options are almost endless and natural beauty is guaranteed whichever island you visit.
Island hopping can prove expensive as the islands of French Polynesia are widely spread over about 1,600 square miles (4,160 sq km), which is one reason that many first-time travellers are more than content to explore Tahiti and nearby Moorea, which are connected by a regular ferry service. Cruises can be booked and cargo ships are often happy to transport travellers for a fee, but flying is still often the only practical option.
Map of Tahiti and French Polynesia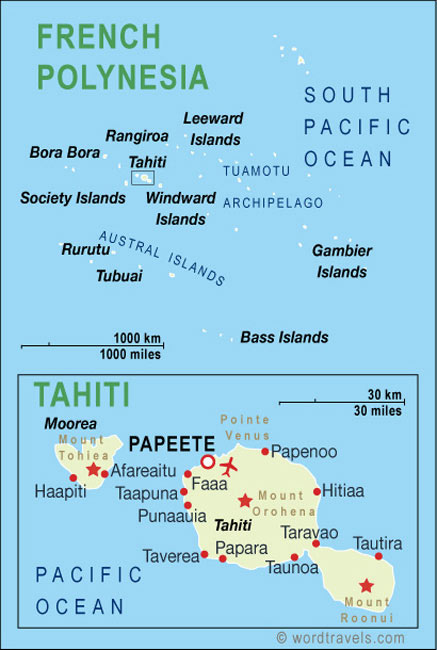 Travel Guide powered by www.wordtravels.com, copyright © Globe Media Ltd. All rights reserved. By its very nature much of the information in this guide is subject to change at short notice and travellers are urged to verify information on which they're relying with the relevant authorities. Globe Media and UNIGLOBE Travel does not accept any responsibility for any loss or inconvenience to any person as a result of information contained above.