General
Money
Entry Requirements
Health & safety
Weather
Embassies
Etiquette
Public Holidays
Attractions
Map
---
Introduction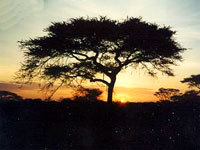 Serengeti sunset ©Judith Duk
Tanzania boasts the highest mountain on the continent, the exotic spice islands of Zanzibar, and the famous Serengeti National Park, location of arguably the greatest spectacle of animal behaviour, the annual migration of millions of wildebeest and zebra followed by their predators. The Great Rift Valley gives rise to the unique geological formations found in the magnificent Ngorongoro Crater and Mount Kilimanjaro. Tanzania is also home to one of the world's largest game reserves, the UNESCO-listed Selous, which covers an area larger than Switzerland. This absolute wealth of natural attractions makes the country a bucket-list destination for nature lovers.
Tanzania is richly endowed with many animal and bird species and offers some of the finest game viewing on the continent. Dar-es-Salaam is the largest city, a hustling, bustling and surprisingly scenic tropical seaport that is a common starting point for trips into the country. A dusty safari into the vast wilderness is superbly complemented by time spent on the refreshing Zanzibar islands, with white palm-fringed beaches, beautiful coral gardens, and the historic Stone Town - an exotic reminder of its days as a major spice and slave trade centre.
Tanzania is home to hundreds of different ethnic groups and cultures, from the red-clad herders of the Masai tribes on the Serengeti plains to the modestly veiled women of Zanzibar's Islamic Stone Town. The warmth and smiling faces of its friendly people will touch the heart of every traveller.
Communications
The international country dialling code for Tanzania, as well as Zanzibar, is +255. There is good mobile phone coverage in main cities and towns, with operators using GSM networks; rural areas may have limited coverage. There are international roaming agreements with most international operators. Avoid making telephone calls from hotels; they can be very expensive. Internet cafes are available in the main towns and resorts.
Emergencies
112 (General)
Languages Spoken
Swahili and English are the official languages. Several indigenous languages are also spoken.
Duty Free
Travellers to Tanzania do not have to pay duty on 250g tobacco or 200 cigarettes or 50 cigars, 500ml of alcoholic beverages, and 473ml perfume. Restrictions apply to firearms, plants, plant products and fruits.
Electricity
230 volts, 50Hz. Rectangular or round three-pin plugs are used.
Climate Info
Tanzania is hot throughout the year and is humid on the coast and dry on the central plateau. The heavy rains last from March to June and can make road travel difficult. The hot, dry weather in January and February attracts the most tourists. The best time to visit the Serengeti is from January to March when the grazers are calving and there are plenty of lion around. The famous wildebeest migration takes place over a number of months, roughly at the onset of the dry season and again with the first rains; depending on where travellers want to be to watch the migration and what stage they want to witness they could visit anytime between April and mid-November.
Zanzibar has a warm climate year-round and its coastal resorts are tempered by sea breezes. The island is best avoided in April and May, the rainy season.
Passport
Most visitors entering Tanzania require a visa. Passports must contain one unused visa page. Visitors may obtain a visa on arrival at Dar-es-Salaam or Zanzibar airports, costing between US$ 50 and US$ 200 depending on nationality, payable in cash. All visitors also require proof of sufficient funds and should hold documentation for their return or onward journey. Passports should be valid for at least six months from date of entry. Those arriving from an infected country must hold a yellow fever vaccination certificate. It is highly recommended that passports have at least six months validity remaining after your intended date of departure from your travel destination. Immigration officials often apply different rules to those stated by travel agents and official sources.
Entry Requirements
A
visa is issued on arrival, and a passport valid for six months from date of entry is required. Visitors must hold return/onward tickets and all documents required for their next destination.
show more ...
Health
Travellers are advised to take medical advice at least three weeks before leaving for Tanzania. Visitors should consider vaccinations for hepatitis A, typhoid, yellow fever and polio. Those arriving from an infected country are required to hold a yellow fever vaccination certificate. There is a risk of malaria all year and outbreaks of Rift Valley Fever occur; travellers should take precautions to avoid mosquito bites and take malaria medication. Food prepared by unlicensed vendors should be avoided, as meat and milk products from animals may not have been cooked thoroughly. Sleeping sickness is a risk in the game parks, including the Serengeti, and visitors should take precautions against bites by tsetse flies. There is a high prevalence of HIV/Aids. Cholera outbreaks are common throughout the country and visitors are advised to drink bottled or sterilised water only. Travellers climbing Mt. Kilimanjaro are at risk for altitude sickness.
Medical services are available in Dar-es-Salaam and other main towns, but facilities and supplies are limited even in cities, and often non-existent in rural areas; visitors with particular requirements should take their own medicines. Comprehensive medical insurance is advised.
Safety
Most visits to Tanzania are trouble-free. As in other East African countries, the threat from terrorism is quite high in Tanzania and visitors should be cautious in public places, tourist sites and hotels, particularly in Zanzibar's Stone Town. The area bordering Burundi should be avoided. Street crime is a problem in Tanzania, especially in Dar es Salaam, and tourists should be alert and cautious. Lonely beaches and footpaths are often targeted; women are particularly vulnerable to attacks. Visitors should leave valuables in their hotel safe and not carry too much cash on them at any time.
Armed crime is on the increase and there have been serious attacks on foreigners in Arusha and on Pemba Island. There have also been reports of robberies and kidnapping on Zanzibar, and piracy in the Indian Ocean and Gulf of Aden is a serious concern with commercial and tourist vessels being fired upon and several British tourists taken hostage.
Road accidents are common in Tanzania due to poor road and vehicle conditions, violation of traffic regulations and exhaustion among long-distance drivers. There have also been a number of ferry accidents in Tanzania in recent years. Caution should be exercised - if a bus or ferry seems overloaded or in poor condition don't get on.
Emergency Phone Number
112 (General)
* For current safety alerts, please visit
Foreign travel advice - GOV.UK
or
Travel.State.Gov
Money
The official currency is the Tanzanian Shilling (TZS), divided into 100 cents. The tourism industry prices everything in US Dollars and they are the preferred unit of currency. Money can be exchanged in larger towns; foreign exchange bureaux may offer a better rate of exchange than banks. ATMs are available in major towns and cities. Some major lodges, some hotels and travel agents in urban areas accept credit cards, but these should not be relied on and can incur a surcharge.
Exchange Rate
Not available.
Embassies of Tanzania
Embassy of Tanzania, Washington DC, United States: +1 202 884 1080.
High Commission of Tanzania, London, United Kingdom (also responsible for Ireland): +44 (0)20 7569 1470.
High Commission of Tanzania, Ottawa, Canada: +1 613 232 1509.
High Commission of Tanzania, Tokyo, Japan (also responsible for Australia and New Zealand): +81 (0)3 3425 4531.
High Commission of Tanzania, Pretoria, South Africa: +27 (0)12 342 4371.
Foreign Embassies in Tanzania
United States Embassy, Dar-es-Salaam: +255 (0)22 229 4000.
British High Commission, Dar-es-Salaam: +255 (0)22 229 0000.
Canadian High Commission, Dar-es-Salaam (also responsible for Madagascar, Comoros and Seychelles): +255 (0)22 216 3300.
South African High Commission, Dar-es-Salaam: +255 (0)22 260 1800.
Irish Embassy, Dar-es-Salaam: +255 (0)22 260 2355.
New Zealand High Commission, Pretoria, South Africa (also responsible for Tanzania): +27 (0)12 435 9000.
Customers
Tanzanians are known to be friendly and generally welcoming, but travellers should be sensitive to local cultural mores. Aggressive behaviours and public drunkenness is considered rude. Tanzanians feel strongly about showing respect for their elders.
Visitors to Zanzibar should be aware that it is a predominantly Muslim region and a modest dress code, especially for women, should be respected when away from the beach and in public places. Topless sunbathing is a criminal offence. Smoking in public places is illegal. Tourists should be especially careful during Ramadan when public drinking, smoking and even eating can be problematic.
Homosexuality is illegal in Tanzania.
Business
Although Tanzanians come across as relaxed and friendly, it is important to observe certain formalities, especially with greetings. It is advisable to learn a few Swahili catch phrases when greeting, followed by a handshake. Women and men rarely shake hands in Swahili culture; however, if the woman extends her hand, the man is obliged to take it. Tanzanians are to be addressed as Mr, Mrs, and Ms, followed by the family name. Business dress is seldom very formal but lightweight suits are recommended for formal occasions. Business hours are similar to Western countries, but a longer lunch break is taken during the hotter months, and business continues later in the evening from Monday to Friday.
Tipping
Waiters in the better restaurants should be tipped around 10 percent. Guides, porters and cooks in the wildlife parks and on safari trips expect tips. The amount is discretionary according to standard of service and the number in your party.
Public Holidays in Tanzania
| | | |
| --- | --- | --- |
| | 2017 | 2018 |
| New Years Day | 1 Jan | 1 Jan |
| Birth of Prophet Mohammed | 1 Dec | 21 Nov |
| Good Friday | 14 Apr | 30 Mar |
| Easter Monday | 17 Apr | 2 Apr |
| Workers Day | 1 May | 1 May |
| Saba Saba | 7 Jul | 7 Jul |
| Farmers Day | 8 Aug | 8 Aug |
| Id al Fitr (End of Ramadan) | 26 Jun | 15 Jun |
| Nyerere Day | 14 Oct | 14 Oct |
| Independence Day | 9 Dec | 9 Dec |
| Christmas Day | 25 Dec | 25 Dec |
| Boxing Day | 26 Dec | 26 Dec |
| Union Day | 26 Apr | 26 Apr |
| Karume Day | 7 Apr | 7 Apr |
| Eid al-Adha (Feast of the Sacrifice) | 2 Sep | 22 Aug |
Overview
Synonymous with the Serengeti and the tropical island of Zanzibar, Tanzania is an eco-tourist's dream, a bucket-list destination for wildlife safaris, and an idyllic beach getaway all in one.
Wonderful game-viewing opportunities abound in Tanzania and the most popular parks include the Mt Kilimanjaro Game Park and the Serengeti National Park. The former is most commonly visited by travellers keen to summit the famous Kilimanjaro, a magnificent hike which is surprisingly easy considering the height of the mountain, but should certainly not be attempted without training and planning. The Serengeti National Park, on the other hand, is a prime safari destination, it's crowing jewel the annual wildebeest migration which qualifies as one of the natural wonders of the world.
Off the shore of mainland Africa, Zanzibar is known for crystalline turquoise waters and sandy white beaches on its north shore. Apart from the glorious beaches, resort attractions and water sports, the mysterious Stone Town intrigues visitors on Zanzibar with its UNESCO-listed melange of 19th-century Swahili, Arab, Indian and European influences.
The quickest and most comfortable way to travel round this magical country is to fly between cities, but for the more rural areas and game parks it's advisable to hire a car (preferably a 4x4) or join a tour. For those on a budget, taking the bus is the cheapest and easiest way to travel, but the accident rate is high due to bad roads and overloaded vehicles so caution should be exercised.
Map of Tanzania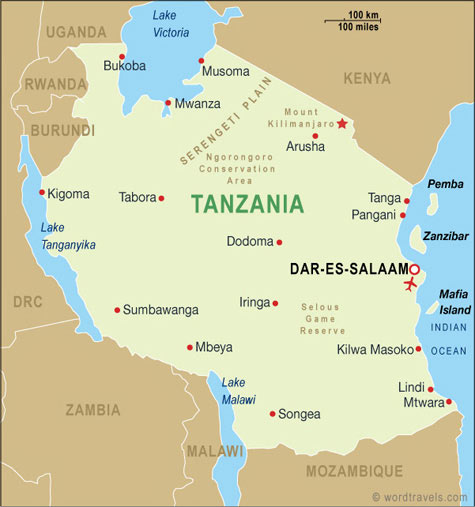 Travel Guide powered by www.wordtravels.com, copyright © Globe Media Ltd. All rights reserved. By its very nature much of the information in this guide is subject to change at short notice and travellers are urged to verify information on which they're relying with the relevant authorities. Globe Media and UNIGLOBE Travel does not accept any responsibility for any loss or inconvenience to any person as a result of information contained above.