General
Money
Entry Requirements
Health & safety
Weather
Embassies
Etiquette
Public Holidays
Attractions
Map
---
Introduction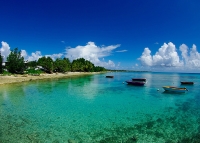 Funafuti ©Tomoaki INABA
Halfway between Hawaii and Australia the remote Polynesian island nation of Tuvalu keeps its beauty mostly to itself. Large lagoons and coral reefs dominate the nine islands, creating dramatic and unusual landscapes.
A lack of tourism industry means visitors are usually left to their own devices for beach activities and watersports. Travellers should bring their own boogie board and flippers to explore the many gorgeous beaches and lagoons. The capital, Funafuti, offers simple accommodation in a few hotels which sometimes host feasts and dances. Unfortunately tourism is growing at about the pace of the coral and neither is enough to keep the island afloat. For the time being, however, this is a dream destination for those in search of an unspoiled beach paradise where luxury resorts and tourist hordes are unheard of.
While rising sea levels threaten a number of low lying countries, Tuvalu's three islands and six atolls are expected to be some of the first landmasses to take the plunge. The country's leaders are trying to find high and dry quarters for Tuvalu's 11,000-odd people in New Zealand and Australia. Each year only a few people are allowed to emigrate to New Zealand, although many more would like to leave. The nation has no fresh water, few natural resources and terrible soil for agriculture that is being further degraded by salt water seeping through porous coral ground. Yet despite the nation's woes a hardy few tourists that make the voyage still find a pleasant, hospitable country with a unique atoll geography. And for the competitive off-the-beaten track traveller a visit to a country that may soon be submerged has obvious appeal.
Tuvalu's atolls were formed when coral rings grew around sinking volcanic islands (yes, sinking is a recurrent theme in Tuvalu). The coral continued to grow upward while the central islands eventually disappeared leaving lagoons in their stead. The nine islands are spread over 420 miles (676km) of ocean but together comprise only 10 square miles (26km) of land to explore.
Funafuti is connected to Fiji by flights, although the remoteness of the islands generally makes it a pricey journey. Some of the outer islands can be reached by ship or boat from Funafuti, but getting around the archipelago can be challenging. Increased tourism may throw the remote island a thin lifeline but its future is anything but smooth sailing.
Languages Spoken
The official languages are Tuvaluan and English; however, Tuvaluan is used far more on a daily basis than English.
Duty Free
Visitors to Tuvalu over the age of 18 can freely import 200 cigarettes or 225g of tobacco or cigars; 1 litre of wine or spirits; and 1 bottle of perfume.
Electricity
220 - 240 volts, 60Hz. Australian three-pin, flat-blade attachment plugs are standard. Electricity is limited to the main island.
Passport
Passports must have at least six months validity remaining upon arrival in Tuvalu. Visitors are required to hold proof of sufficient funds to cover their stay and the documents required for their next destination.
Entry Requirements
Canadian
citizens require a passport that must be valid for at least 6 months on arrival. Visas are required and can be issued on arrival to visitors for a stay no longer than one month, provided they hold confirmed return/onward tickets and sufficient funds for their stay.
show more ...
Health
Vaccinations are recommended for hepatitis A and hepatitis B for all travellers. Those who are spending lots of time outdoors and may be at risk of animal bites should consider a rabies vaccination, but in most cases this will not be necessary. Tap water should be avoided unless boiled, filtered or chemically disinfected.
There are no particular health risks associated with travel to Tuvalu, but medical care is extremely limited and even essential medications can be in short supply. Therefore, comprehensive travel health insurance is recommended, and all required medications should be brought with, in the original packaging, along with a signed and dated letter from a doctor detailing what they are and why they are needed.
* For current safety alerts, please visit
Foreign travel advice - GOV.UK
or
Travel.State.Gov
Exchange Rate
Not available.
Embassies of Tuvalu
Foreign Embassies in Tuvalu
Customers
Social interactions in Tuvalu are friendly and informal. Respect for elders is important. The population of Tuvalu is predominantly Congregationalist, and conservative Christian values are practised. Homosexuality is illegal in Tuvalu.
Public Holidays in Tuvalu
Travel Guide powered by www.wordtravels.com, copyright © Globe Media Ltd. All rights reserved. By its very nature much of the information in this guide is subject to change at short notice and travellers are urged to verify information on which they're relying with the relevant authorities. Globe Media and UNIGLOBE Travel does not accept any responsibility for any loss or inconvenience to any person as a result of information contained above.