General
Money
Entry Requirements
Health & safety
Weather
Embassies
Etiquette
Public Holidays
Attractions
Map
---
Introduction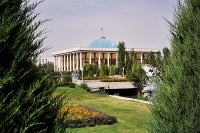 Oliy Majlis (Parliament of Uzbekistan) ©upyernoz
Central Asia's most populous country is, besides Liechtenstein, the only country in the world surrounded entirely by other landlocked states, and is bordered by the '-stans' - Afghanistan, Kazakhstan, Kyrgyzstan, Tajikistan and Turkmenistan. It also borders the Aral Sea, which it shares with Kazakhstan.
Having declared its independence from the Soviet Union in 1991, Uzbekistan has sought to increase awareness to its tourism potential, boasting historical, archaeological, architectural and natural treasures. Tourist activities range from outdoor pursuits in the beautiful mountainous regions to exploring its rich century-old history. Oasis towns like Samarkand, Bukhara and Khiva were once main points of trade on the Silk Road linking Eastern and Western civilisations and are among the oldest towns in the world with ancient mosques, grandiose madrasas (Islamic clergy academies) and palaces, citadels, minarets, colourful bazaars, highly-adorned mausoleums, and age-old traditions. Uzbekistan's capital, Tashkent, is the main point of entry and exit into and out of the country, and although also formerly part of the Silk Road, it is usually overlooked as a site of interest in favour of the historically richer tourism centres such as Samarkand. The 5th century BC World Heritage city was the greatest in Central Asia in its time, and boasts one of the most impressive sights in the region, Registan Square.
In recent years, Uzbekistan has cooled its relations with the West, having closed the US airbase that was used for operations in Afghanistan after 9/11, and favouring closer relations with China, India and Russia following Western calls for investigation into the bloody massacre at Andijan in 2005.
Uzbek hospitality is nevertheless unequivocal, and visitors to the country will be overwhelmed with offers of tea or vodka, and treated to a feast of architectural splendour in this most historically intriguing of the Central Asian republics.
Communications
The international dialling code for Uzbekistan is +998. City codes are in use, e.g. 8(71) for Tashkent and 8(66) for Samarkand. International taxophones, using phone cards, are the cheapest way to make calls. A GSM mobile network covers the cities, and Internet usage is growing in the major cities, despite the tight controls enforced by the government.
Emergencies
102 (Police); 103 (Ambulance); 101 (Fire)
Languages Spoken
Uzbek is the official state language, but Russian is used in much day-to-day official and international communication.
Duty Free
Travellers to Uzbekhistan 16 years and older can bring in goods to the value of US$1,000 without incurring customs duty. They are also entitled to import 200 cigarettes; 2 litres of beer and 2 litres of other alcohol beverages, plus 2 bottles of perfume. The export of antiques or antiquities requires a special permit. It is forbidden to import narcotics, pornography, explosives and any materials that incite violence or direct hatred toward the country, or any religion practiced within it.
Electricity
Electrical current is 220 volts, 50Hz. Round, two-pin plugs, as well as oblique flat-blade plugs with ground are in use.
Climate Info
The continental climate brings long, hot and dry summers and cold winters with snow. The south of the country is generally warmer than the north with July temperatures that can reach in excess of 113°F (45°C) in summer and winter temperatures of 18°F (-8°C) in the north (can reach -13°F/-25°C) and 32°F (0°C) in the south. Spring and autumn are the most pleasant times to travel to Uzbekistan for mild weather, but trekkers are better off in the mountains in summer (July/August).
Passport
Passports of all visitors should be valid for the period of intended stay. All visitors staying longer than three days are required to register with the local police on arrival, which should be entered on their visa; this will be checked on departure from the country. It is highly recommended that passports have at least six months validity remaining after your intended date of departure from your travel destination. Immigration officials often apply different rules to those stated by travel agents and official sources.
Entry Requirements
Canadians
require a visa and passport valid for duration of stay for entry to Uzbekistan.
show more ...
Health
No vaccinations are required by visitors to Uzbekistan. However, outbreaks of Hepatitis A, Hepatitus B and Tetanus are possible, and there is a risk of malaria in the south. Visitors should only drink bottled water. Hospitals offer adequate basic medical care, but serious cases will usually be treated outside of the country. Visitors should ensure that they have comprehensive medical insurance.
Safety
Travel to Uzbekistan is generally problem-free, but foreigners should avoid unnecessary displays of wealth and walking alone after dark, as occasional muggings do occur. A general threat of terrorism exists particularly in places frequented by expatriates and foreign travellers. Planned demonstrations should be avoided as they have become violent in the past.
Emergency Phone Number
102 (Police); 103 (Ambulance); 101 (Fire)
* For current safety alerts, please visit
Foreign travel advice - GOV.UK
or
Travel.State.Gov
Money
The official currency is the Sum (UZS), which is divided into 100 tiyins. Foreign currencies (US dollars, Euros) can readily be exchanged at banks, exchange offices, hotels and shops in the cities, but many hotels and transport providers will require payment in hard currency, like US dollars. Credit cards are accepted in major hotels located in the tourist centres. Travellers cheques have limited acceptance.
Exchange Rate
Not available.
Embassies of Uzbekistan
Uzbekistan Embassy, Washington DC, United States: +1 202 887 5300.
Uzbekistan Embassy, London, United Kingdom: +44 (0)20 7229 7679.
Foreign Embassies in Uzbekistan
United States Embassy, Tashkent: +998 (71) 120 5450.
British Embassy, Tashkent: +998 (71) 120 1500.
Canadian Consulate, Tashkent: temporarily closed. Please contact moscoconsular@international.gc.ca for further assistance.
Australian Embassy, Moscow, Russia (also responsible for Uzbekistan): +7 (495) 956 6070.
South African Honorary Consulate, Tashkent: +998 (71) 137 0170.
Irish Embassy, Moscow, Russia (also responsible for Uzbekistan): +7 (495) 937 5911.
New Zealand Embassy, Moscow, Russia (also responsible for Uzbekistan): +7 (495) 956 3579.
Customers
Elderly people are greatly respected and should be treated with deference by foreigners. Most Uzbek people are Muslim and visitors should dress modestly and be sensitive to religious customs, particularly during the holy month of Ramadan when eating, drinking and smoking in public is forbidden by the Muslim culture. Homosexuality is illegal and public displays of affection are frowned upon. Police will often ask to see proof of identity, and foreigners are recommended to carry a photocopy of their passport with them at all times.
Business
Office hours are generally Monday to Friday 9am to 6pm. Men greet each other with handshakes. Women are not traditionally involved in business.
Tipping
Tipping is common in restaurants and bars, and is usually 5-10 percent. Some tourist hotels and restaurants, and upmarket institutions will usually include service charge in the bill.
Public Holidays in Uzbekistan
Travel Guide powered by www.wordtravels.com, copyright © Globe Media Ltd. All rights reserved. By its very nature much of the information in this guide is subject to change at short notice and travellers are urged to verify information on which they're relying with the relevant authorities. Globe Media and UNIGLOBE Travel does not accept any responsibility for any loss or inconvenience to any person as a result of information contained above.