General
Money
Entry Requirements
Health & safety
Weather
Embassies
Etiquette
Public Holidays
Attractions
Map
---
Introduction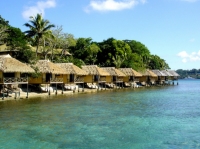 Island resort, Vanuatu ©Phillip Capper
The epitome of the laid-back South Pacific, the island nation of the Republic of Vanuatu encompasses an archipelago of 83 picture-postcard tropical islands, about a thousand miles (1,700km) east of Australia. The islands, originally 'discovered' by Captain James Cook in 1774, were jointly administered by Britain and France after being settled by Europeans in the late 18th century, and gained independence as recently as 1980.
The native Melanesian people, who now proudly speak their pidgin English tongue, are largely dependent on tourism for their livelihood, and the islands are full of natural attractions that make this a very desirable destination for beach-lovers, scuba divers and adventurers.
The islands are part of the Pacific 'ring of fire', volcanic in origin, with plenty of volcanic activity on the go to astound visitors. The last eruption occurred in 1945, but the volcanoes are continually bubbling and spewing out rocks and lava, adding an enticing element of danger to any visit to Vanuatu.
The capital city, Port Vila, is situated on the main island of Efate, the hub of commerce and tourism, and where most of the population live. The town encircles a natural harbour, offering breathtaking views of offshore islands. A pretty town with a neat waterfront area, it is also a stone's throw from the main international airport and gateway to the islands. In recent years a number of luxury tourist resorts have been established close to Port Vila, which has developed a reputation as the gourmet capital of the south Pacific, with its dozens of restaurants and cafes, reflecting a variety of cuisines, from French and Italian to Chinese and Thai.
The rest of the island offers a rugged coastline and verdant, green countryside, bisected by rivers and waterfalls, sporting sandy bays and tranquil lagoons where tropical fish dart among the coral reefs. On the other islands it is possible to play at being Robinson Crusoe, leaving footprints on beaches seemingly untouched by man.
One of the main attractions of Vanuatu is an annual event that takes place on Pentecost Island each Saturday between April and June. A legend sparked the tradition of 'land-diving', where young men test their mettle by launching themselves from towers constructed of branches, tied by vines at the ankles, and plunge towards the ground. It is the original form of 'bungee jumping' and although visitors cannot participate, the spectacle is awesome.
Communications
The international direct dialling code for Vanuatu is +678. The outgoing code is 00 followed by the relevant country code (e.g. 0044 for the United Kingdom). Area codes are in use. There are public telephones near the post office and near the Telecom office in Port Vila, with phone cards available at both these offices. There is GSM mobile phone coverage of the islands (contact your service provider to ascertain whether your phone is compatible) and local pay-as-you-go SIM cards are available from the local network provider, Telecom Vanuatu Limited (TVL). There are Internet cafes in Port Vila and Luganville, and most hotels and resorts have Internet access.
Emergencies
22222 (Police); 22333 (Fire)
Languages Spoken
The three official languages of Vanuatu are English, French and Bislama (a pidgin language). A further 113 indigenous languages are used by local people in the islands.
Duty Free
Travellers arriving in Vanuatu may bring in the following goods without paying customs duty: 250 cigarettes or 250g tobacco or 50 cigars or 100 cigarillos; 2.25 litres of spirits and 2.25 litres of wine; 250ml of eau de toilette and 100ml of perfume.
Electricity
Electrical current is 220-240 volts, 50Hz; plugs are flat three pins.
Climate Info
Winter, between April and October, is a pleasant time to travel to Vanuatu, when temperatures average around 73°F (23°C) and the sea is a few degrees warmer. Summer is hot and humid, with tropical cyclones probable between November and April with abundant rainfall.
Passport
Travellers to Vanuatu must hold a passport valid for at least six months beyond the date of arrival. Sufficient funds, all documents for next destination and return or onward tickets are required. Immigration officials often apply different rules to those stated by travel agents and official sources.
Entry Requirements
Canadians
do not require a visa to stay in Vanuatu for up to 30 days. They do require a passport valid for six months beyond arrival date.
show more ...
Health
There has been an increase in the number of dengue fever cases in Vanuatu. Malaria prophylaxis is highly recommended because malaria is also common in the region. It is vital to take precautions against mosquito bites because dengue fever is prevalent. Hepatitis A vaccination is recommended, as well as typhoid immunisation for those planning to consume food outside of the better hotels and restaurants. Urban tap water is safe to drink, but elsewhere drink only bottled or purified water, and ensure food is well-prepared and well-cooked, and served piping hot. Medical facilities on the islands are basic but adequate for routine treatment. More serious cases require evacuation to Australia or New Zealand. Scuba divers should be aware there is one decompression chamber on the islands, at Port Vila, and sea rescue services are not comprehensive. Comprehensive travel health insurance with evacuation cover is strongly recommended.
Safety
Most visits to Vanuatu are trouble-free; the greatest threat to a visitors' safety comes from nature in the form of earthquakes and volcanic eruptions. The islands have experienced more than 40 earthquakes in the past two years, some measuring over seven on the Richter scale. Tourists have been injured, even fatally, by volcanic activity on the islands, and visitors are advised to be cautious and heed the advice of local guides when making expeditions to view active volcanoes. The tropical cyclone season normally runs from November to April. The crime rate is low, but is increasing. Take precautions against burglary and street crime, especially at night. Foreigners, especially women, have been attacked in isolated locations and it is advisable not to visit remote areas or beaches alone.
Emergency Phone Number
22222 (Police); 22333 (Fire)
* For current safety alerts, please visit
Foreign travel advice - GOV.UK
or
Travel.State.Gov
Money
The unit of currency in Vanuatu is the Vatu (VUV), although Australian Dollars are widely accepted in Port Vila. The Vatu has no subdivisions. Exchange facilities are readily available at banks and kiosks in Port Vila. Banking services are sophisticated and major credit and debit cards, as well as travellers cheques, are widely accepted in Port Vila and Luganville, but cash is required in the countryside away from tourist resorts. MasterCard and Visa are the most widely accepted. There are ATMs accepting most international cards in Port Vila. Banking hours are generally weekdays between 8am and 4pm.
Exchange Rate
Not available.
Embassies of Vanuatu
Vanuatu Honorary Consulate, Cape Town, South Africa: +27 (0)21 434 6570.
Vanuatu Consulate, Auckland, New Zealand: (+64) 9 918 6327 or (+64) 21 216 4722.
Foreign Embassies in Vanuatu
United States Embassy, Port Moresby, Papua New Guinea (also responsible for Vanuatu): +675 321 1455.
British High Commission, Suva, Fiji (also responsible for Vanuatu): +679 322 9100.
Canadian High Commission, Canberra, Australia (also responsible for Vanuatu): +61 (0)2 6270 4000.
Australian High Commission, Port Vila: +678 22777.
South African High Commission, Canberra, Australia (also responsible for Vanuatu): +61 (0)2 6272 7300.
New Zealand High Commission, Port Vila: +678 22933.
Customers
Local traditions and customs should be respected, and this includes not wearing very revealing clothing away from the beaches and hotels. Ask permission before taking photographs of local people. Be aware that land-ownership is a sensitive issue in Vanuatu, and those who venture onto someone's land may be asked to pay a 'visitor fee'. The Polynesian herbal 'feel-good' drink, kava, is widely drunk by the locals, particularly at cultural ceremonies.
Business
Vanuatu has no personal income tax, capital gains tax or company restrictions, so it is a popular haven for international offshore investment companies. Business attire is smart-casual, and meetings are usually held in French or Bislama (the local pidgin English). Office hours are generally 7.30am to 11.30am, and then 1.30pm to 5pm on weekdays.
Tipping
Tipping is not expected in Vanuatu as it is traditionally unacceptable. A smiling thank you is sufficient gratuity.
Public Holidays in Vanuatu
Travel Guide powered by www.wordtravels.com, copyright © Globe Media Ltd. All rights reserved. By its very nature much of the information in this guide is subject to change at short notice and travellers are urged to verify information on which they're relying with the relevant authorities. Globe Media and UNIGLOBE Travel does not accept any responsibility for any loss or inconvenience to any person as a result of information contained above.