General
Money
Entry Requirements
Health & safety
Weather
Embassies
Etiquette
Public Holidays
Attractions
Map
---
Introduction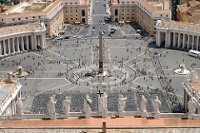 St Peter's Square ©Anita Szeicz
Known to most as the centre of Catholicism and home of the Pope, Vatican City, which spans an area of approximately 44 hectares (100acres) is the world's smallest independent sovereign state. But this small country is brimming with enough artwork and history to rival any other country in Europe.
The enormous enclosed open space of St Peter's Square, featuring the biggest church in the world at one end, and a gigantic Egyptian obelisk in the centre, is the main gathering point for tourists. The architecture is sublime with just about every important Renaissance and Baroque architect and artist having a hand in the design of St Peter's Basilica, from Bramante and Raphael to Baldassare Peruzzi and Michelangelo, who is usually attributed with the dome. One of the greatest art galleries in the world, the Vatican Museum, complete with its world-famous spiral staircase, draws thousands of visitors, as do the colourful and almost clown-like uniforms of the Swiss Papal Guards. But nothing draws more tourists than the addressing of the people by the Pope.
There is more to the tiny Vatican state than meets the eye though, and aside from the exquisite palaces, museums and administrative buildings, Vatican City boasts mundane things like a prison, a supermarket, a printing press (which produces the daily ) and a post office, which is rumoured to be the best in the world.
The Pope has total legislative, executive and judicial power over Vatican City which is unique in its non-commercial economy, financially supported by the devout Roman Catholics of the world. The official currency of the Vatican is the Euro although the extremely rare Vatican Euro is also in circulation. Vatican City has its own bank and ATMs are available. Visitors to Vatican City should carry their personal belongings closely on them and remain vigilant as petty crime, such as pick pocketing, is sadly quite common. Vatican City offers no lodgings or accommodations; most visitors who want to be close by opt to stay in the neighbouring Vaticano suburb of Rome. Getting around Vatican City by foot is easy enough, although not all areas are open for tourists.
With fascinating buildings, palaces, museums, sculptures and architecture to enjoy, Vatican City is a must for culture vultures and anyone wanting a glimpse into the workings of a diminutive, but powerful country, not to mention the power base of one of the most powerful religious denominations in the world.
Languages Spoken
Vatican City has not established an official language. Italian, German, French and English are all widely spoken and understood.
Electricity
Electrical current is 220 - 240 volts, 50Hz. Rounded two-pin or three-pin plugs are standard.
Passport
Visitors holding a Schengen Visa are able to enter Vatican City. Visitors may be refused entry either for public security, tranquillity, order or health reasons or if not holding visible means of support (unless a sponsor can guarantee for them at the airport upon arrival) and/or return or onward tickets and other documents required for their next destination. It is highly recommended that passports have at least six months validity remaining after your intended date of departure from your travel destination. Immigration officials often apply different rules to those stated by travel agents and official sources.
Entry Requirements
Canadian
nationals require a passport valid for three months beyond period of intended stay for entry into Vatican City. No visa is needed for stays up to 90 days.
show more ...
Exchange Rate
Not available.
Embassies of Vatican City
Foreign Embassies in Vatican City
Customers
Vatican City is a Roman Catholic state, and visitors should respect local religious traditions. Modest dress is required (no sleeveless shirts and short pants or skirts), and people are expected to remain quiet in sacred areas.
Public Holidays in Vatican City
Travel Guide powered by www.wordtravels.com, copyright © Globe Media Ltd. All rights reserved. By its very nature much of the information in this guide is subject to change at short notice and travellers are urged to verify information on which they're relying with the relevant authorities. Globe Media and UNIGLOBE Travel does not accept any responsibility for any loss or inconvenience to any person as a result of information contained above.