General
Weather
Airports
Attractions
Activities
---
Introduction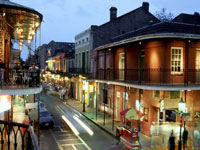 Lively Louisiana is slowly picking up the pieces after the devastation caused by Hurricane Katrina on 30 August 2005 and is showing a determination to shake off the sackcloth and ashes and carry on as before. Visitors from around the world are once again flocking to New Orleans, not only to view the disaster areas and hear the stories, but to experience the city's traditional toe-tapping Dixieland jazz music, to dine on Cajun cuisine and enjoy the laid-back lifestyle where a carnival atmosphere prevails day and night.
Louisiana is hedonistic and historic, musical and memorable; the American state that feels European has a distinctive scenic beauty and a cultural uniqueness that makes it more than attractive as a holiday destination. It is the cultural variety in particular that gives Louisiana its special appeal, and this is the result of the legacy of the original Native Americans; the French, Spanish and Creole inhabitants of the major city of New Orleans; the Cajuns of South Louisiana; the African slaves and free blacks; the European plantation owners; and settlers of virtually every nationality that have made the State their home.
Louisiana's past is just as colourful and varied as its people. It has been governed under 10 different flags since 1541 when Hernando de Soto claimed the region for Spain. At the outbreak of the Civil War Louisiana even became an independent republic for six weeks, before joining the Confederacy. Louisiana was actually sold to the United States by Napoleon in 1803, the purchase being negotiated by President Thomas Jefferson. The reason for all this chopping and changing was because of the region's importance for trade and security in the American mid-west; the mighty Mississippi River flows through Louisiana and access to the mouth is controlled by the city of New Orleans.
Further along the Mississippi visitors marvel at the stately plantation houses of Louisiana's rich landowners of old, and enjoy tasting the sights and sounds of the Mississippi valley, which is one of the most scenic areas in the United States. Just like the renowned Creole dish known as 'gumbo', the State of Louisiana contains a bit of everything.
Time Zones
GMT -6 (GMT -5 from March to November).
Climate Info
Louisiana's climate usually remains constant, with semi-tropical conditions throughout the year. Those parts of the state that are in close proximity to the Gulf of Mexico tend to be very humid with lots of rainfall, and little difference between summer and winter conditions. New Orleans, for example, is hot and humid for the majority of the year, with well over 180 days of sunshine annually. Some snowfall can occur in the state in winter, but very rarely. Louisiana is prone to hurricanes (June is the start of hurricane season), with the most severe being the recent Hurricanes Rita and Katrina in 2005.
Getting Around
When in New Orleans, the vintage electric rail vehicles or 'streetcars' are the way to go. With various lines crossing the city, most destinations are accessible by this means of transport. Various VisiTour passes allow unlimited rides on buses and streetcars, and for streetcar fare and route information visit www.norta.com. The Canal Street Ferry takes passengers across to the suburb of Algiers and is free for pedestrians, offering fine views of the city skyline. Walking, cycling, taxis and rental cars are some of the other options; many tourist areas, like the French Quarter, are most enjoyable on foot. Driving a car in New Orleans may be difficult as many roads are still inaccessible due to hurricane damage.
Louis Armstrong New Orleans International Airport (MSY)
| | |
| --- | --- |
| Location | The airport is situated 14 miles (22km) west of downtown New Orleans. |
| Time Difference | GMT -6 (GMT -5 from March to November). |
| Contacts | Switchboard: +1 504 464 0831. Information desk: 504 464 2752. |
| Car Rental | Car rental companies are situated on the lower level of the airport and include Alamo, Avis, Budget, Enterprise, Hertz, National and Thrifty. |
| Airpor Taxis | There are taxicabs available on the lower level outside the baggage claim zone. For one to two persons it costs approximately $28 from the airport to the CBD, for three or more passengers it costs $12 per passenger. Journey time is 30 minutes, dependent on traffic. For queries call the Taxi Bureau on (504) 565-6272. |
| Airport Facilities | Banks and business centres offer foreign money exchange, ATMs, travellers cheques and a host of other banking and business services. Internet access is available, as well as tax-free shopping, gift shops, a post office, advance baggage check-in, and a visitor information service. Facilities for the disabled are good. There are restaurants on Concourses A, B, D and in the main ticket lobby, while snacks are available on Concourse C. |
| Car Parking | Short-term parking at Louis Armstrong International Airport starts at $2 for the first hour and charges $2 every half hour thereafter up to a daily limit of $16. Long-term parking charges are similar, but with a daily maximum of $13. All vehicles are subject to a search before parking. |
| Website | www.flymsy.com |
Blaine Kerns Mardi Gras World

In Algiers Point, on the west bank of the Mississippi River, stands a unique studio museum showcasing the famous New Orleans' Mardi Gras. The museum is actually the working studio of foremost carnival float designer, Blaine Kern, for whom producing floats and props for the city's annual Mardi Gras is a full-time job. Visitors can watch Kern and his team design and construct the giant sculptures of everything from cartoon characters to mythological figures and animals that will eventually parade through the streets.




| | |
| --- | --- |
| Address | 233 Newton Street, Algiers Point |
| Phone | (800) 362 8213 |
| E-mail | sabine@mardigrasworld.com |
| Website | www.mardigrasworld.com |
| Transport | Catch the free ferry at the foot of Canal Street to historic Algiers Point. A free Blaine Kern shuttle meets every ferry from 9:30am to 4:30pm. |
| Opening Time | Opens daily 9:30am-4:30pm. |
| Admission | Tours: $19.95 (adults), $12.95 (children). Concessions available. |



---
The Cabildo

The entertaining and informative Cabildo on Jackson Square in New Orleans' French Quarter explores the history of Louisiana from the first European explorations to the post-Civil War Reconstruction era from a multi-cultural perspective. The museum is the flagship of the Louisiana State Museum facilities and is housed in an historic building, dating to 1799, originally serving as the Spanish city council offices. Two major historic events took place in the Cabildo building: the Louisiana Purchase Transfer ceremonies in 1803 and later a landmark Supreme Court decision was handed down here that legalised racial segregation. The Cabildo takes pride that five American presidents have visited it.





---
D-Day National WWII Museum

The unique D-Day National World War II Museum was founded in 2000 by historian and author Dr Stephen Ambrose and has become regarded as a highlight of any New Orleans sightseeing tour. Situated in New Orleans' Warehouse District it depicts the June 6, 1944 invasion of Normandy, the Home Front during World War II, and the D-Day Invasions in the Pacific. Exhibit galleries include text panels, artefacts, and personal account stations where visitors can listen to the stories of war veterans. A panorama exhibit recreates a Normandy beach landing; there are also regular film shows.




| | |
| --- | --- |
| Address | 945 Magazine Street, New Orleans. Entrance on Andrew Higgins Drive |
| Phone | (504) 528 1944 |
| E-mail | info@nationalww2museum.org |
| Website | www.nationalww2museum.org |
| Opening Time | Open daily 9am-5pm. Closed Mardi Gras Day, Thanksgiving Day, Christmas Eve and Christmas Day. |
| Admission | Museum only: $19 (adults), $9 (children 12-5), free for children under 5, concessions and combo tickets available. |



---
Audubon Aquarium of the Americas

New Orleans' state-of-the-art Audubon Aquarium, situated on the banks of the Mississippi River, is regarded as the best in America with highly entertaining exhibits. Underwater tunnels allow visitors to marvel at a Caribbean Reef and a re-creation of the Gulf of Mexico, complete with sharks. There is also a walk-through Amazon rainforest and an exhibit displaying the inside story of swamp life. The Aquarium features every type of aquatic creature from jellyfish and sea horses to sea otters and penguins. The Aquarium's 'sister' attraction, also run by the Audubon Institute, is the excellent New Orleans city zoo, situated in Audubon Park further uptown.




| | |
| --- | --- |
| Address | 1 Canal Street |
| Phone | (504) 581 4629 |
| E-mail | air@auduboninstitute.org |
| Website | www.auduboninstitute.org |
| Opening Time | Aquarium and Zoo: Tuesday to Sunday 10am-5pm. |
| Admission | Aquarium: $21 (adults), $14 (children 2-12). Zoo: $16 (adults), $11 (children). Concessions available. |



---
French Quarter

Regarded as the heart and soul of New Orleans, the French Quarter is the historic part of town covering about 90 square blocks radiating out from Chartres Street and Jackson Square. The Quarter, or Vieux Carre, was established in 1718 as a French military outpost, which was later taken over by the Spanish, merging into a freewheeling culture incorporating slaves, pirates, mercenaries, call-girls and various freemen of every colour and creed. Today the area looks and feels much as it did before Hurricane Katrina, with its wrought-iron railings and tall doorways, and clubs, bars, Cajun-seafood restaurants and shops all a-buzz. By day it is one of the best people-watching spots in the world, and the focus for visitors to New Orleans. By night the area becomes a giant street party throbbing with jazz music and a world-class dining district. The most famous street is Bourbon Street, where prostitutes literally mingle with priests, and bars stay open all night.





---
Rural Life Museum and Windrush Gardens

Situated on the Burden Research Plantation, run by the Louisiana State University, is the Rural Life Museum and Windrush Gardens. The museum features an extensive collection of tools, household utensils, furniture, vehicles and farming implements, some outdoors and others housed in more than 20 buildings that depict the lifestyle of pre-industrial 19th-century Louisiana.




| | |
| --- | --- |
| Address | LSU Burden Research Plantation, 4600 Essen Lane |
| Phone | (225) 765 2437 |
| E-mail | rulife1@lsu.edu |
| Website | rurallife.lsu.edu |
| Opening Time | Daily 8:30am-5pm. Closed New Years Day, Easter Sunday, Thanksgiving, Christmas Eve and Christmas Day. |
| Admission | $7 adults, $6 children 5-11. |



---
Old State Capitol

The historic Old State Capitol Gothic building, once described by Mark Twain as being 'the ugliest thing on the Mississippi', sits on a bluff overlooking the river and today operates as a centre for political and governmental history. The building was completed in 1849 and housed the Louisiana Legislature until Union forces captured the city of Baton Rouge in 1862. The legislature returned to the building in 1882 and stayed until the new capitol was completed in 1932. The old Capitol has now been restored and houses a museum featuring state-of-the-art interactive exhibits and multi-media presentations detailing Louisiana's past and political history.





---
Baton Rouge Nautical Center and the USS Kidd

A highlight of the Baton Rouge Nautical Center is the restored 369ft (112m) World War II Fletcher Class Destroyer, USS Kidd, which is the prime exhibit. Overnight camping experiences on the ship are offered. The center also features a huge collection of model ships, a restored World War II fighter plane, a jet fighter from the Vietnam era and a walk-through exhibit of the gun deck of Old Ironsides.




| | |
| --- | --- |
| Address | 305 South River Road |
| Phone | (225) 342 1942 |
| E-mail | Info@usskidd.com |
| Website | www.usskidd.com |
| Opening Time | Daily 9am-5pm. Closed Thanksgiving and Christmas Day |
| Admission | Ship and museum: $8 (adults), $5 (children 5-12), concessions available. |



---
San Francisco Plantation

Louisiana's most authentically restored 'great house' is the San Francisco Plantation house, sited on the east bank of the Mississippi under centuries-old live oaks, about 40 minutes from downtown Baton Rouge near the small town of Garyville. The galleried house was built by Edmond Bozonier Marmillion in 1856 in what is termed the Creole open-suite style. Inside the house features five hand-painted mural ceilings, faux marble and bois wood graining, and one of the finest antique collections in the United States. Also on the plantation is an 1830s slave cabin, a one-roomed schoolhouse and a museum store. Period-costumed guides take visitors on tours throughout the day. Other plantation houses open to the public on the Great River Road between New Orleans and Baton Rouge include Oak Alley, Nottoway, Laura, Madewood, and Tezcuco.




| | |
| --- | --- |
| Address | 2646 Highway 44 (River Road), Garyville |
| Phone | (985) 535 2341 |
| Website | www.sanfranciscoplantation.org |
| Opening Time | Daily 9:30am-4:40pm (April to October), 9am-4pm (November to March). |
| Admission | $15 adults, $10 children; concessions available, children under six free. |



---
Louisiana Art and Science Museum

Housed in a historic railroad depot the Louisiana Art and Science Museum offers educational and entertainment opportunities for visitors of all ages. Featured are changing fine art exhibitions, interactive art and science galleries for children, an Egyptian tomb and a simulated space station. Also on the site is the Irene W. Pennington Planetarium and ExxonMobil Space Theatre, offering planetarium shows and large format films.




| | |
| --- | --- |
| Address | 100 South River Road |
| Phone | (225) 344 5272 |
| E-mail | lasm@lasm.org |
| Website | www.lasm.org |
| Transport | Capital Transportation Corporation buses on the Florida Boulevard route stop on River Road directly across from LASM |
| Opening Time | Tuesday to Friday 10am-3pm; Saturday 10am-5pm; Sunday 1pm-4pm; closed Mondays. |
| Admission | Museum only: $7 adults, $6 children. Museum and Planetarium: $9 adults, $8 children. |



---
Lafayette

The city of Lafayette is the hub of the eight-parish area in the heart of Louisiana's southern Acadian region, famed for its unique Cajun and Creole heritage, where the French language is soft on the ear and French traditions prevail. Lafayette, to the east of Baton Rouge, lies at the intersection of Interstate 10 and Interstate 49, and is known for its great food, music and festivals. The city also has historic attractions, majestic plantation homes, vibrant gardens, leisurely swamp tours and exciting museums to entice visitors. Authentic Cajun and Creole cuisine served up with original Zydeco and Cajun music is what most tourists seek here, but sites like the Acadian Cultural Center, University Art Museum, and the Natural History Museum are all worth visiting.





---
Hurricane Katrina Tour

In the wake of one of the worst hurricanes to ever hit the United States, Gray Line Tours offers a three-hour bus ride around some of the hardest hit areas in New Orleans, including Lakeview and Gentilly, and is aimed at gathering support to rebuild the city. To respect the privacy of the locals, buses will not allow tourists off the bus to take pictures, but will pass around pictures of the storm and its destruction, and guides will describe the events before and after the storm hit the city, as well as explaining the significance of the levee system.




| | |
| --- | --- |
| Address | Tours depart from Gray Line Lighthouse ticket office, Toulouse Street, French Quarter |
| Phone | (504) 569 1401 or (800) 535 7786 |
| E-mail | tours@graylineneworleans.com |
| Website | www.graylineneworleans.com |
| Opening Time | Three hour long tours are conducted daily at 1pm, running January through October. |
| Admission | $48 adults, $30 children. |



---
Preservation Hall

Historic Preservation Hall is New Orleans' most popular jazz venue, where the famed Preservation Hall Jazz Band serves up first-rate Dixieland Jazz six nights a week in the French Quarter building (originally built as a residence in 1750). On Sundays the Olympia Brass Band performs instead. No seating, food or drinks are available, but crowds flock here simply for the music between 8pm and midnight.




| | |
| --- | --- |
| Address | 726 St Peter Street, French Quarter |
| Phone | (504) 522 2841 |
| Website | www.preservationhall.com |
| Opening Time | Nightly from 8pm until 11pm. |
| Admission | $15 |



---
Louis Armstrong Park

Louis Armstrong Park is a 32-acre sanctuary of green trees and jazz melodies in the heart of the historic old quarter. Inside you'll find Congo Square, the meeting place of slaves in the 19th century. The Visitors' Facility also has exhibits and an indoor performance venue. Occasional free Sunday afternoon concerts are a highlight in the park.





---
Audubon Insectarium

If it walks, crawls or flies, find it at the Audubon Insectarium. Set in Custom House, the historic, white marble columned structure in Canal Street, this is the largest freestanding insectarium in the United States, devoted to over 900,000 species of insects. View thousands of live bugs and mounted specimens. The Cooking Show and Cultural Café offer culinary adventures; witness the art of cooking with these creepy criters and sample the treats, or opt for more traditional fare in the insect-themed café.




| | |
| --- | --- |
| Address | 423 Canal Street |
| Phone | (504) 581 4629, (800) 774 7394 |
| Website | www.auduboninstitute.org |
| Opening Time | Tuesday to Sunday 10am-5pm. |
| Admission | $16 (adult); $11 (children) |



---
Besthoff Sculpture Garden

View the priceless sculptures that make up the superb Sydney and Walda Besthoff Sculpture Garden. The Sculpture Garden provides a unique opportunity for visitors who treasure the arts, with a world-class collection of modern and contemporary sculptures presented in an exquisite natural setting. Next to the Sculpture Garden is the New Orleans Museum of Art and City Park, with centuries old oak trees, lagoons, a small amusement park and Storyland, a charming fairytale playground.




| | |
| --- | --- |
| Address | 1 Collins Diboll Circle, City Park |
| Phone | (504) 488 2631 |
| Website | www.noma.org |
| Opening Time | Daily 10am-4:45pm, closes 8:45pm Fridays. |
| Admission | $10 adults, $6 children 7-17. Concessions available. |



---
Louisiana Childrens Museum

The Louisiana Children's Museum is a fantastic attraction for kids with a vast selection of exhibits, art activities and educational programs to enjoy. The kid-sized Winn-Dixie grocery store is a favourite, as are the climbing wall and the giant bubble that kids can play in. Eye to Eye has fun showing the workings of the human eye, and Art Trek features drawing, painting and sculpture lessons.




| | |
| --- | --- |
| Address | 420 Julia Street |
| Phone | 504 586 0725 ext 210 |
| Website | www.lcm.org |
| Opening Time | Tuesday to Saturday 9:30am-4:30pm, Sunday 12pm-4:30pm (September to May); Monday to Saturday 9:30am-5pm, Sunday 12pm-5pm (June to August). Closed major holidays. |
| Admission | $8 |



---
Mississippi River Boat Rides

Set on the banks of the Mississippi River, New Orleans is a great place to take kids for a boat ride. The Natchez steamboat traverses this great river and passes many of the city's historical sites, while the John James Audubon ferries passengers between the Aquarium of the Americas and the Audubon Zoo. There are also a number of Louisiana swamp tours which kids would love.




| | |
| --- | --- |
| Address | Many boats dock near the foot of Canal Street |



---
Storyland and Carousel Gardens Amusement Park

Kids in New Orleans love Storyland and the Carousel Gardens amusement park. Storyland is a fairytale playground featuring life-size storybook attractions such as Captain Hook's pirate ship, and an imitation whale from . The traditional wooden carousel at the theme park always draws a crowd, as do the bumper cars, lady-bug roller coaster and miniature trains.




| | |
| --- | --- |
| Address | City Park, Victory Ave |
| Phone | 504 483 9381 |
| Website | neworleanscitypark.com/carousel_gardens.html |
| Opening Time | Carousel Gardens: Saturday and Sunday 11am-6pm; Storyland: Tuesday to Friday 10am-3pm, Saturday to Sunday 10am to 6pm. |
| Admission | Admission $3, rides $3 each. Admission and unlimited ride wristband $20. |



---
New Orleans Historic Voodoo Museum

Voodoo came to Louisiana through African slaves, and has been practised since the early days of the city. New Orleans is known worldwide for its shady association with the darker arts, and the small but fascinating New Orleans Historic Voodoo Museum has artefacts and exhibits depicting the history of its practice in the region. There is usually a voodoo priestess on hand to do palm readings and even make personalised gris-gris bags. The museum may also arrange excursions to voodoo rituals upon request.




| | |
| --- | --- |
| Address | 724 Dumaine Street, French Quarter |
| Phone | (504) 680-0128 |
| Website | www.voodoomuseum.com |
| Opening Time | Daily 10am-6pm |
| Admission | $7 adults, $3.50 children. Concessions available. |



---
Jean Lafitte National Historical Park and Preserve

Jean Lafitte National Historical Park and Preserve is a great place to experience 'bayou life' in Louisiana. The park consists of six physically separate sites and a park headquarters, including the Acadian Cultural Center in Lafayette, the Prairie Acadian Cultural Center in Eunice, the Wetlands Acadian Cultural Center in Thibodaux, the Barataria Preserve in Marrero, the Chalmette Battlefield and National Cemetery in Chalmetter, and the French Quarter Visitor Center in New Orleans.




The park offers a variety of activities, including bayou cruises from the Acadian Cultural Center, birdwatching and swamp walks in Barataria Preserve, and paddlewheel boat trips from New Orleans to the historic Chalmette Battlefield sites. While cruises and guided tours charge individual fees, admission to many of the cultural centres is free.





---
Grand Isle

A great weekend getaway from New Orleans, Grand Isle is a popular holiday town located on an island in the Gulf of Mexico. Formerly a busy port of call for pirates like Jean Lafitte, Grand Isle is now a haven for fishing and birdwatching. Grand Isle State Park is home to one of the top winter beaches in the US, and there is a small town of about 1,500 people nearby with a few restaurants and self-catering accommodation. Grand Isle comes alive each year for the Grand Isle Tarpon Rodeo, a salt-water fishing rodeo that draws 15,000 people each year; another popular event is the Grand Isle Migratory Bird Festival, held each spring.




| | |
| --- | --- |
| Website | www.grand-isle.com |
| Transport | Grand Isle is accessible from New Orleans via Hwy 1 and US-90. |



---
Avery Island

Avery Island is located on an eight-mile (13km) deep salt dome located in Iberia Parish, 137 miles (220km) west of New Orleans. Known as the birthplace of Tabasco Sauce, Avery Island is still home to the Tabasco Pepper Sauce Factory, which offers tours to the public. The island also contains the Jungle Gardens wildlife refuge, home to alligators, deer, and raccoons; and Bird City, a pond with specially-built piers for viewing snowy egrets, among other birds.




| | |
| --- | --- |
| Website | www.tabasco.com/avery-island |
| Opening Time | Jungle Gardens and Bird City: daily 9am-5pm; factory closes 4pm. |
| Admission | $1 per car to enter the island; Jungle Gardens and bird City: $8 adults, $5 children under 12. |



---
Travel Guide powered by www.wordtravels.com, copyright © Globe Media Ltd. All rights reserved. By its very nature much of the information in this guide is subject to change at short notice and travellers are urged to verify information on which they're relying with the relevant authorities. Globe Media and UNIGLOBE Travel does not accept any responsibility for any loss or inconvenience to any person as a result of information contained above.